Grillaholics Pro Nylon Grill Brush




















Grillaholics Pro Nylon Grill Brush
NO MORE METAL BRISTLES. NO MORE WORRIES
NO MORE METAL BRISTLES. NO MORE WORRIES
WELCOME TO NYLON COLD SCRUB TECHNOLOGY!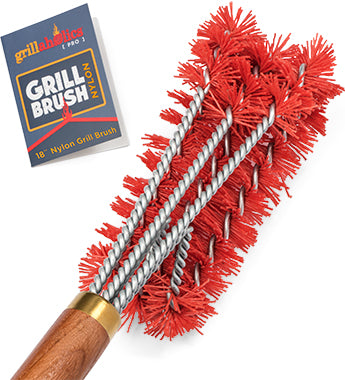 I finally did the right thing and purchased this grill brush. The risk of metal bristles being ingested was our motivation, of course. While I have changed my old routine of brushing the grill while it was hot I have found that brushing it while it's cold - prior to cooking - does just as good of a job. I actually like it better! I just brush the heck out of my grill grate, rinse off the brush and put it in the dishwasher. It comes out clean as a whistle. My wife was right.
Grillaholics Pro Nylon Grill Brush
BUILT STRONGER.
SMARTER.
SAFER.
HEAVY DUTY HANDLES
FOR EXTRA LEVERAGE
USES NYLON COLD SCRUB
TECHNOLOGY
MADE WITH NO
METAL WIRE BRISTLES
GET YOUR GRILL
GET YOUR GRILL
CLEAN UP TO 5X FASTER!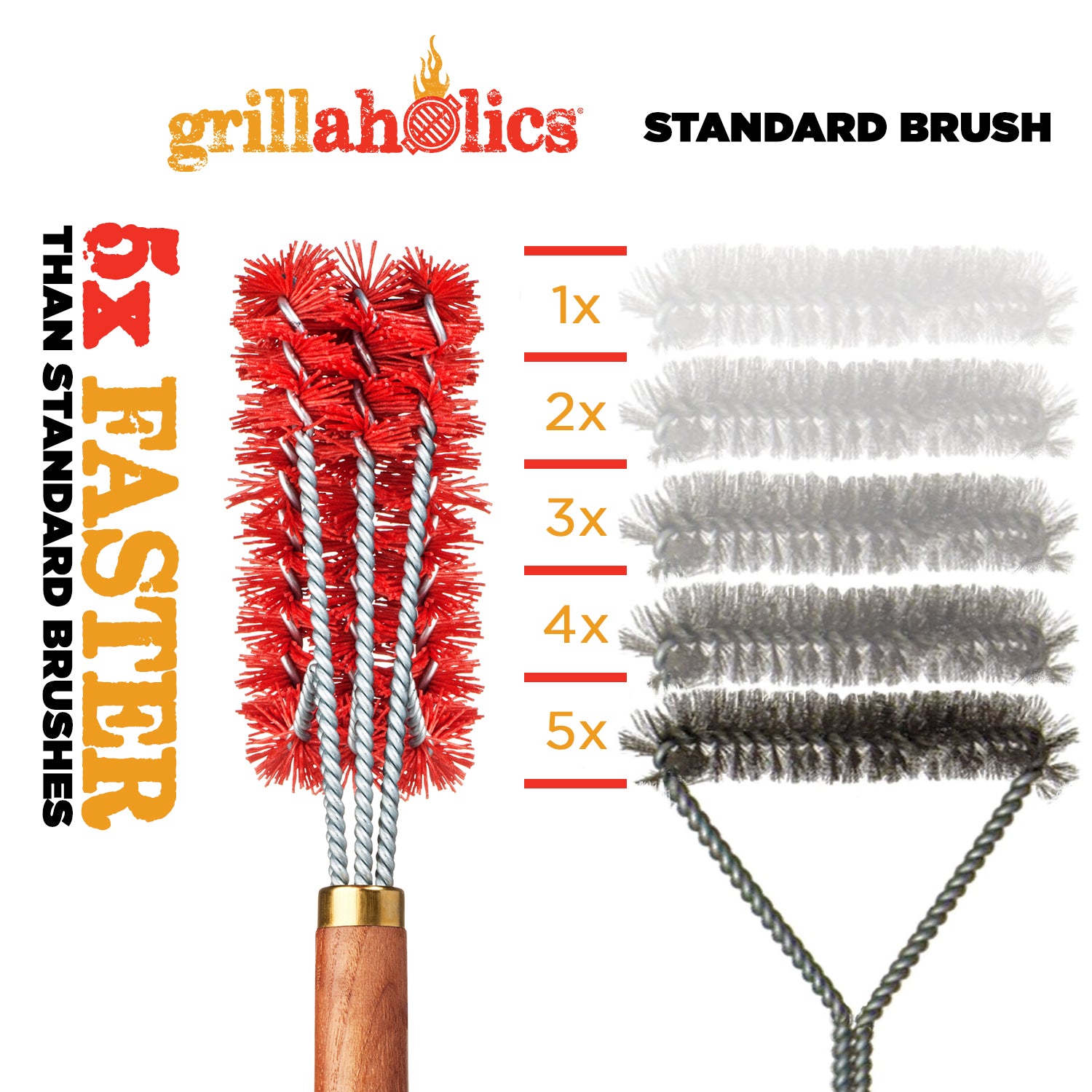 STRONG ENOUGH FOR
A LITTLE ELBOW GREASE

"I have the ceramic coated grates so using a wire brush would have removed the coating and getting in between the grates was difficult with grill scrubber. With the sturdy handle i was able to put some elbow power to get the grates cleaner than i have in the past.Afterwards I ran it under some hot water to remove most of the grill debris and let the dishwasher clean the rest."

"My family and I have been looking for a really good nylon grill brush for a while, and this is easily the best one we'veused. We have grills with differing grate materials, and this brush works like a dream on all of them. It's super easy touse and is holding up beautifully. Nice sturdy construction and a very reasonable price. Couldn't be happier with it."

"I used this for about 2 months now and it's been great. I like how you have to use it on a cold grill so you don't risk burning yourself. I've used it on stainless steel grates, my Traeger, and other stand alone grills. It works great. I mainly bought this for the fact that the bristles are orange so that IF one breaks away, it's easily spotted. Premium materials are also a nice touch and durable."

"I got this for my new Pellet Grill so that I would not destroy the brand new grates in it. My old brush took the finish off my old one over the years. This does a very good job of cleaning it and leaves no damage to the grate. It is easy to wash and keep clean afterwards."
INTRODUCING NYLON COLD SCRUB TECHNOLOGY
If you have porcelain or ceramic grill grates, you know that not just any grill brush will do. That's why we developed our Essentials Nylon Grill Brush that utilizes cold scrub technology that is perfectly safe for expensive porcelain and ceramic grill grates, while being strong enough to power through any burnt on grime.
Unlike other brushes that require your grill to be piping hot in order to clean efficiently, our Nylon brush was designed specifically to be used on cold grill grates. So not only ads our Nylon grill cleaning brush safe for your grill grates - It keeps your hands safe from the heat as well!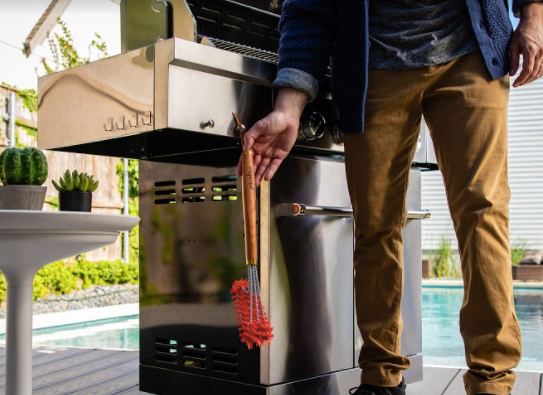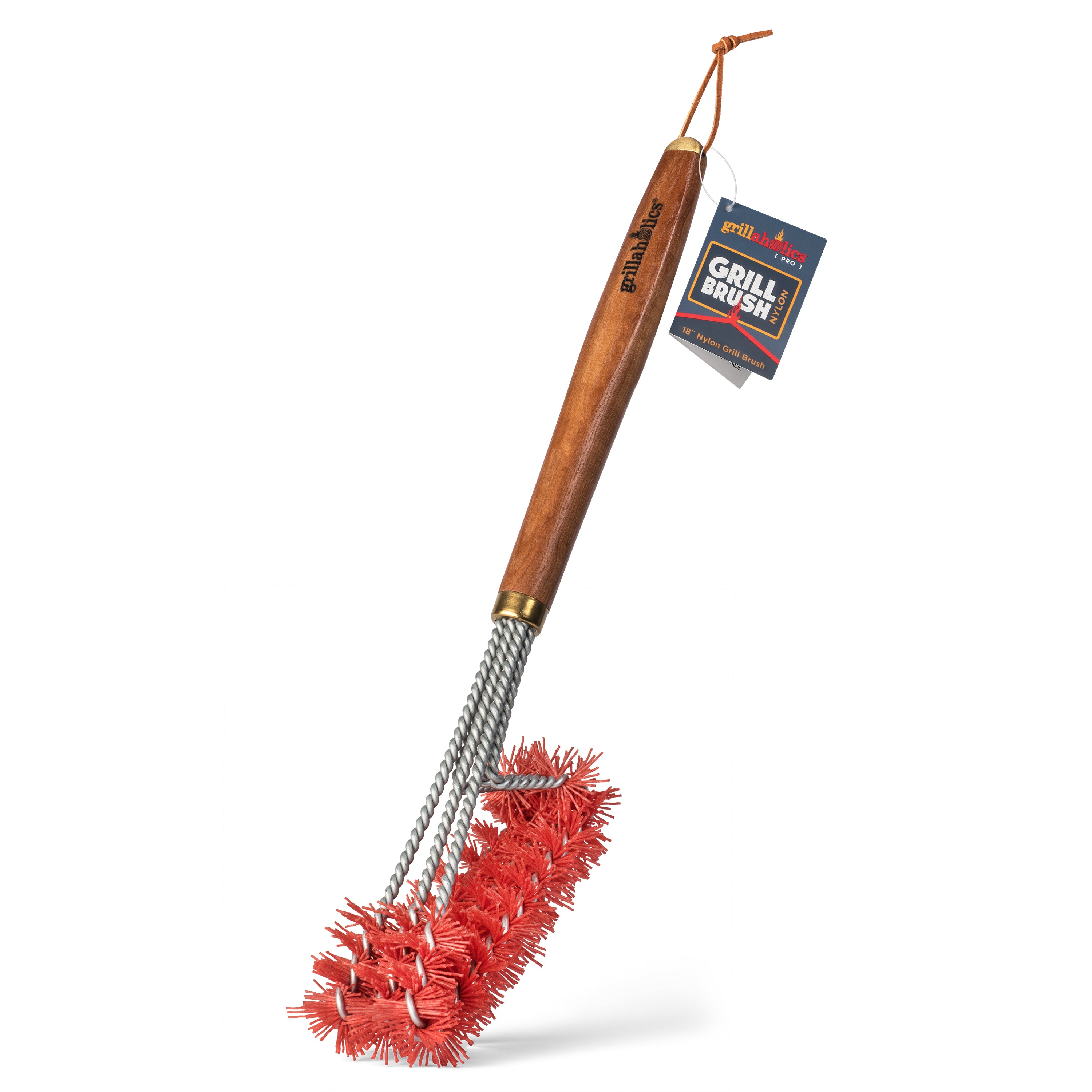 GRAB YOUR GRILLAHOLICS PRO NYLON GRILL BRUSH NOW FOR SAFE, EFFECTIVE GRILL CLEANING!
Customer Reviews
05/15/2020
Charles M.

United States
Great Brush
The pro nylon grill brush works great. I was worried about the nylon being too soft to do the job but it works really great.
Looks good and works better
Brush works great on the grill. Brush will probably last longer than the grill grate itself. Wish you had more than one color of brush bristles though. Just a thought.