Grillaholics Grill Basket




















Grillaholics Grill Basket
GET SMOKY FLAVOR ON VEGGIES, SHRIMP & MEATS
GET SMOKY FLAVOR ON VEGGIES, SHRIMP & MEATS
WITHOUT LOSING THEM TO THE GRILL!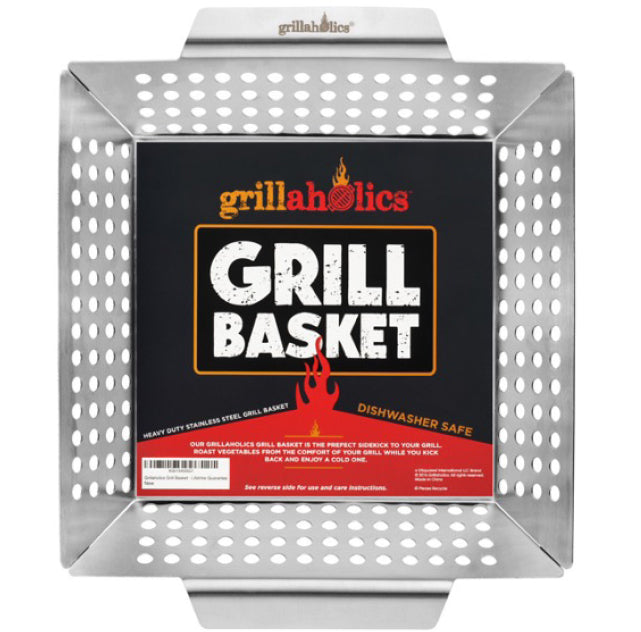 I grill ALOT. I love grilling vegetables and seafood yet the foodwould always stick or fall through the grates. This basket hasbeen amazing and will be used multiple times a week!. I madeshrimp in it and they finally turned out perfectly. The basket issturdy, so theres no issue with how much I put in it. I'll be grillingsome Salmon in it tomorrow. I love how I can cook enough for afew days worth on it if I need to!
GRILLAHOLICS GRILL BASKET
VEGGIES: THE PERFECT SIDEKICK TO GRILLED MEATS!
BUILT
STRONGER.
SMARTER.
SAFER.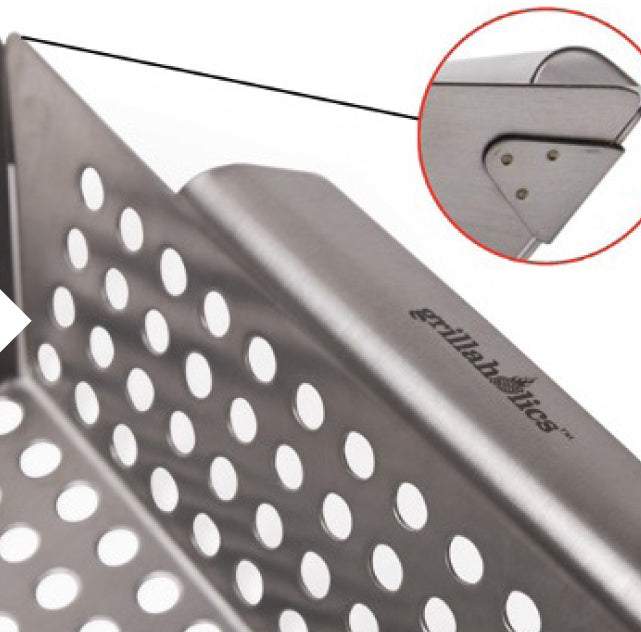 HEAVY DUTY
STAINLESS STEEL CONSTRUCTION
COMFORTABLE INTEGRATED HANDLES
TRIPLE REINFORCED
CORNER WELDS
AN ESSENTIAL BBQ TOOL
AN ESSENTIAL BBQ TOOL
FOR VEGETABLES ON THE GRILL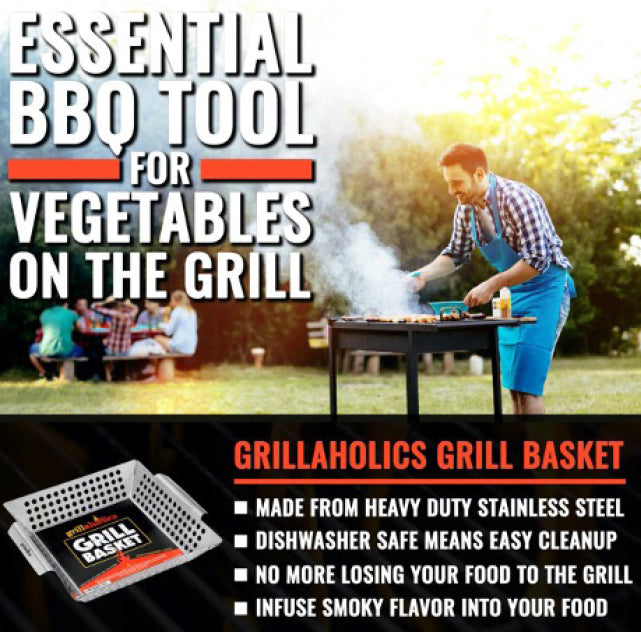 I HAVE USED MANY GRILL BASKETS AND I HAVE NOT LOVED THEM AS MUCH I LOVE THIS ONE

"We are huge grillers in my house! I have used many grill baskets and I have not loved them as much I I love this one. My veggies were perfectly cooked; still a bit crispy with that great "grill" taste. I have also cooked salmon init and it didn't fall apart or over cook. This basket is built for veggies and fish to perfection! It's also incredibly easy to clean! Love this and highly recommend! Happy customer!"

"I bought this as I wanted to start grilling more vegetables and it does a fantastic job of this. I've used it dozens of times now and I wonder how I got by without it.
Wait, I know how I use to get by, I wrapped them in foil and dropped them on the grill and let them cook blindly. I've had so much more success in getting the perfect level of grilling in asparagus, zucchini, and others now that I can see them cooking. If you grill vegetables at all, this is a must have product."

"After reading reviews online, I purchased this and I am happy to report it greatly exceeded my expectations. For grilling vegetables there is simply no parallel. After a single use, it proved itself indispensable grilling anything other than large pieces of corn on the cob, or eggplant. I can now cut up my vegetables into bite-size pieces without fear that they will fall through the grill, and turn them frequently. The grill basket helps them cook evenly, neither under nor overcooked. Peppers, mushrooms and onions develop a perfect char without being burnt. I will never try grilling veggies without this again. The size is perfect for 4-6 hungry adults. Clean up is easy, and after several uses it has begun to develop a nice patina and shows no signs of warping. I can confidently say that this has been the most meaningful upgrade to my grilling, ever! My only regret is that I did not purchase one of these years ago."

"Looked at several before choosing this one. I wanted real stainless steel (not chrome) and heavy weight. Size is large enough to cook for 4 with room to properly stir, heavy enough to prevent warping. Afterwards, clean up was easy using Barkeepers Friend, just like All Clad pans. Perfection."
GET THE PERFECT
SMOKY CHAR
ON GRILLED
VEGGIES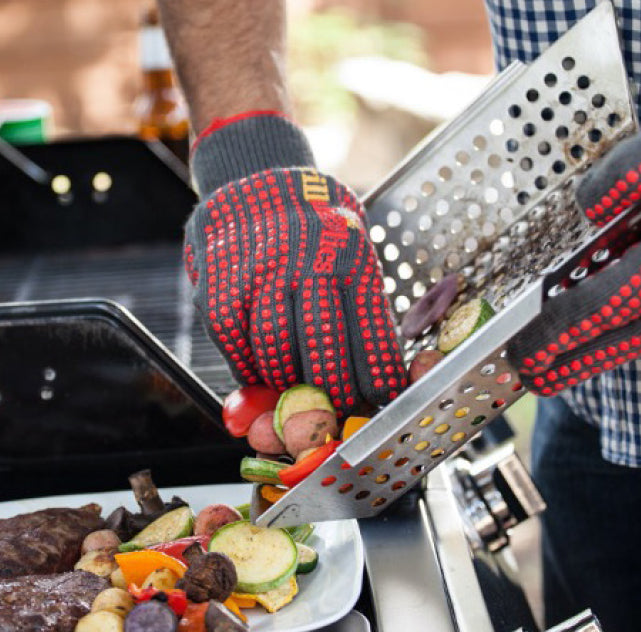 TAKE YOUR GRILLING TO THE NEXT LEVEL WITH OUR VEGETABLE GRILLING BASKET
When you want to take your grilling to the next level, there is no other accessory that can help you get there better than the Grillaholics Vegetable Grilling Basket. Built from Heavy Duty Stainless Steel with Triple Reinforced Corner Welds, our Grill Basket can take the heat without warping. And with perfect sized holes instead of slots, you can be sure your veggies will be kissed by the flames, not in them.
And when you're done getting the perfect char on your veggies, our Grill Basket is Dishwasher Safe, so cleanup is a breeze!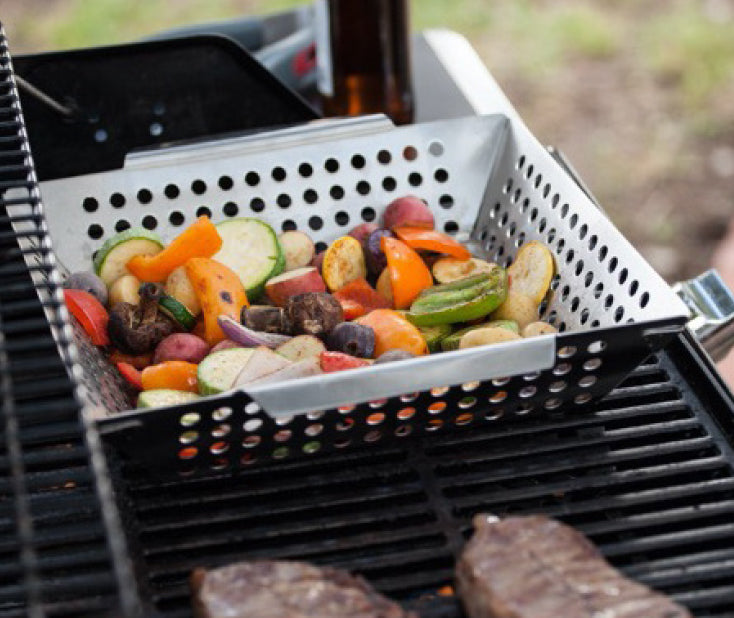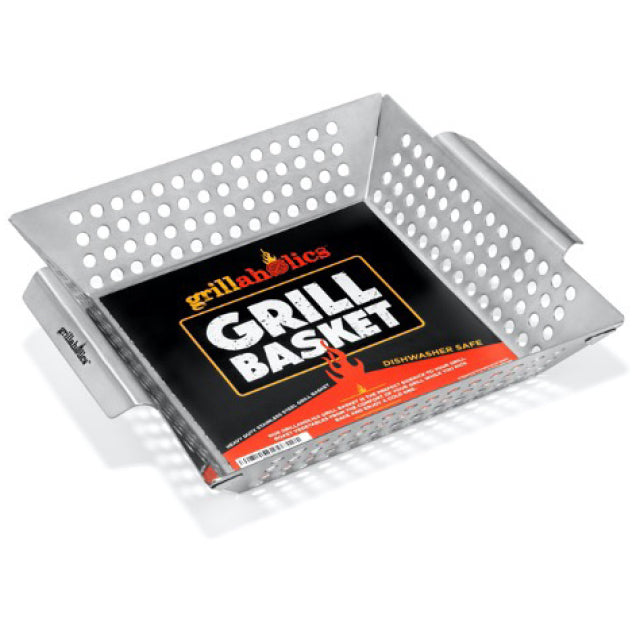 GRAB YOUR GRILLAHOLICS VEGETABLE
GRILL BASKET TODAY AND START GRILLING
VEGGIES LIKE A PRO!
Customer Reviews
06/20/2023
Chris W.

United States
Awesome product
Great for grilling veggies and shrimp!
08/26/2022
Mike R.

United States
Grill Basket
I have not yet used this, but am looking forward to using it. It is sturdy and very strong and heavy. I cant envision having anything fall thru this like is possible with other baskets. Thank you very much. I am spreading the word. Great to know you are selling thru Amazon as well.
07/08/2022
Danny B.

United States
Excellent product
My sister bought me this grill basket as a gift because she knows how much I like to grill in the summer. I was skeptical when I first saw it, but once I tried it I was converted. I have tried it will all different kinds of vegetables, and they all cook thoroughly, uniformly and without burning or charring, and you don't have to worry about them falling through the grill.
06/24/2022
Trevor a.

United States
We LOVE our grill basket!
We love our grill basket and use it all the time! Grilled zucchini is one of our favorites and it's so nice to not have to worry about pieces falling through the grill grates. We still get grill marks and flavor, but avoid having to clean the grill as much. Thank you Grillaholics!
04/01/2022
Valeriy K.

United States