Grillaholics Mesh Grill Mat - Set of 2
















Grillaholics Mesh Grill Mat - Set of 2
MORE HOLES. MORE SMOKE. MORE FLAVOR.
MORE HOLES. MORE SMOKE. MORE FLAVOR.
THE PERFECT GRILL MAT FOR SMOKING MEATS!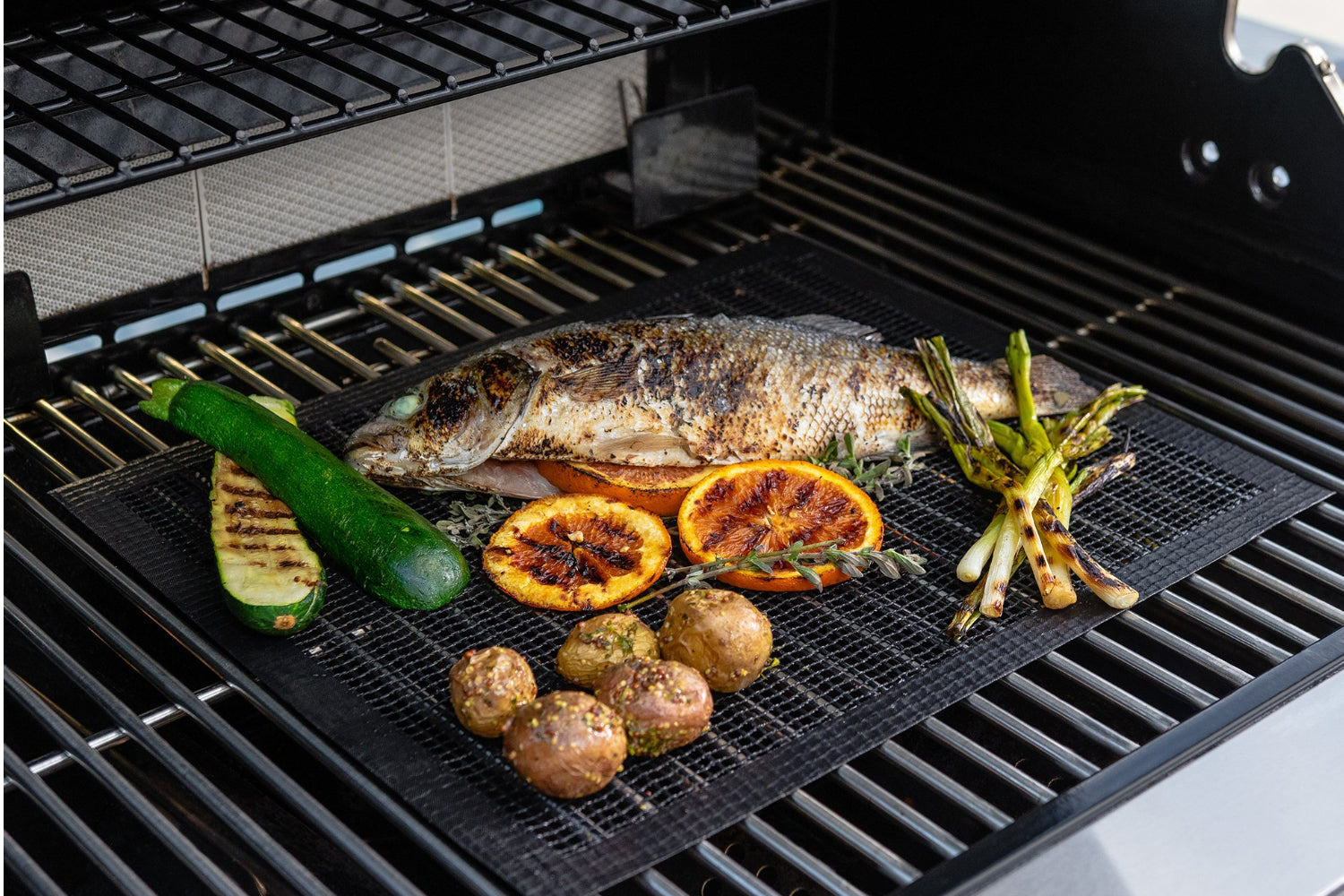 I am so thankful I ordered this product. Gone are the days ofscrubbing my barbecue grate, even with heavy marinades appliedto my food. I love the fact that this is a mesh mat as opposed toa solid mat. Grill marks are great and allows smoke penetration.It is not flimsy and quite durable. Clean-up is an absolute breeze,just soap and warm water - no heavy scrubbing. It truly is nonstick and I believe it will give me many many uses. I grill @ 450deg and there is no evidence of burning, warping or any damagewhatsoever. I've used it 4x and it still looks brand new!
GRILLAHOLICS MESH GRILL MAT - SET OF 2
KEEP YOUR FOOD ON THE GRILL.
THE BEST GRILL MATS IN THE WORLD
ARE CREATED USING THE BEST MATERIALS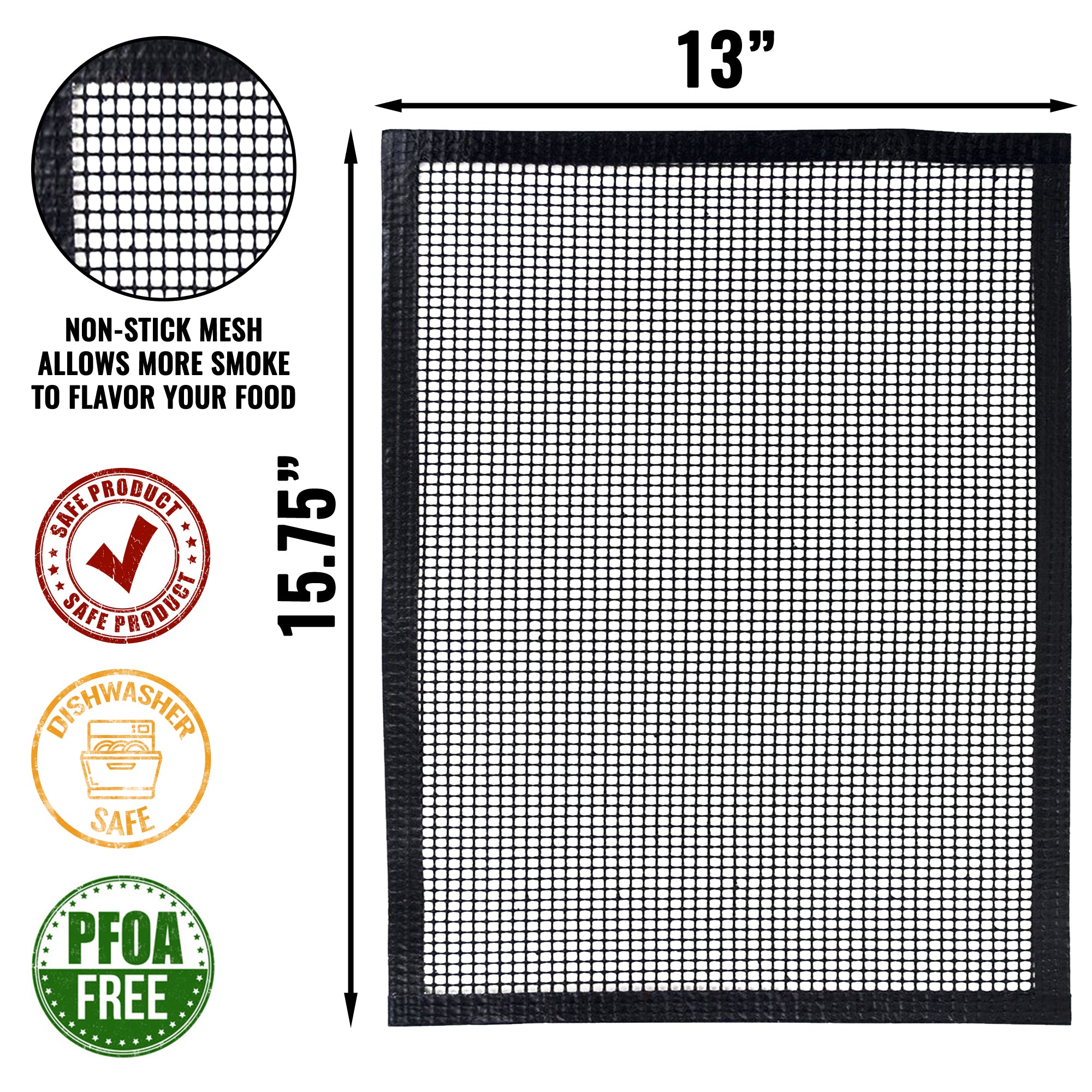 PREMIUM HEAT RESISTANT
PTFE-FIBERGLASS
NO PFOA, SILICONE,
OR OTHER HARMFUL CHEMICALS
A MUST - HAVE GRILLING ACCESSORY
A MUST - HAVE GRILLING ACCESSORY
FOR SMOKING MEATS, VEGGIES & CHEESES!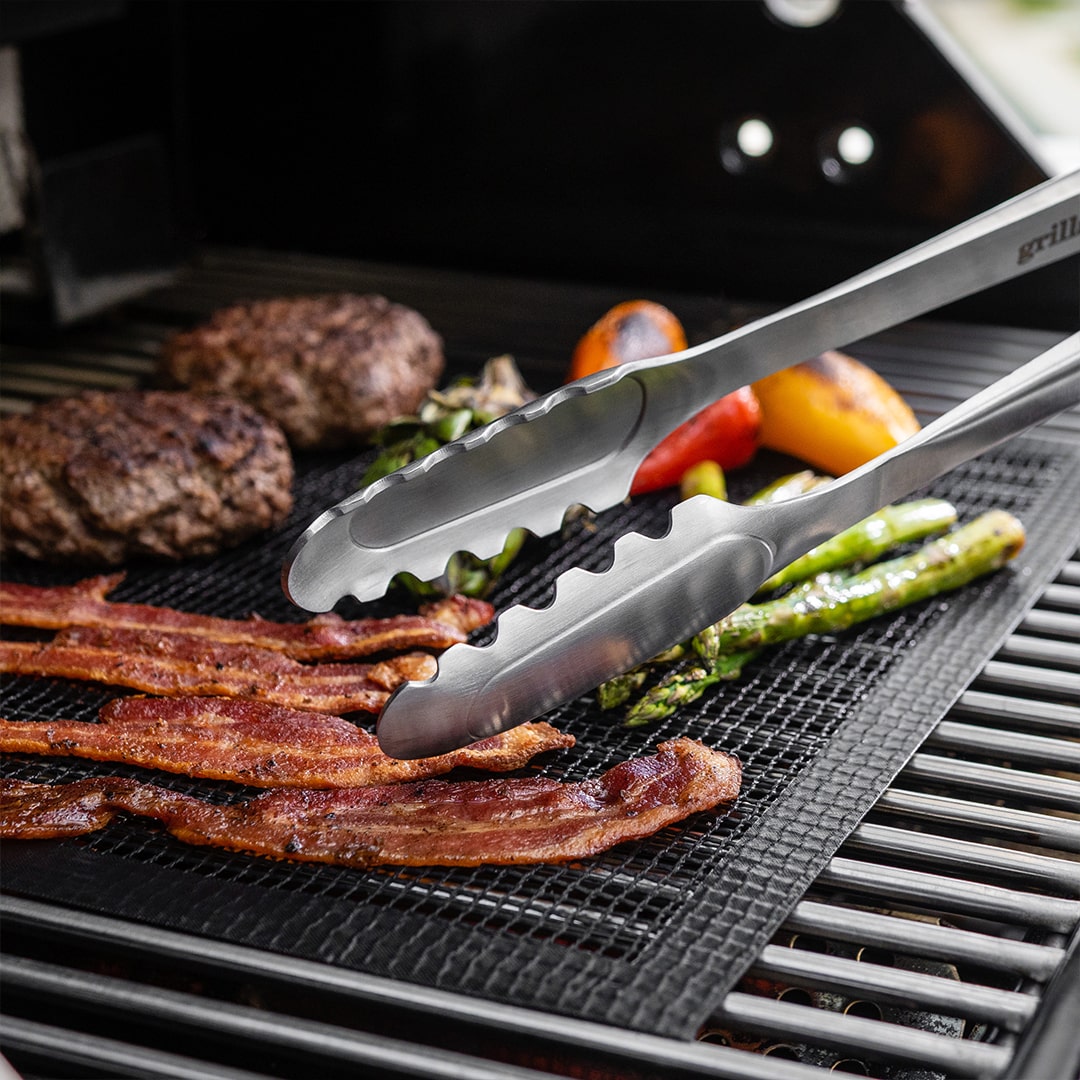 GRILLING THE
RIGHT WAY!

"These are fantastic and durable grill mats. I had this company's non-screened grill mats and ended up with pools of grease on them. These mats solve that problem and also grill your food on an open, direct flame. I am very happy with these mats and have recommended them to friends. Buy them...you will be very satisfied with them. My thanks go out to the Grillaholics team!"

"I bought these for my husband for Father's Day, but gave them to him early because I was excited about them. He absolutely loves them! They are such good quality, great weight, very sturdy, and best of all, they're beautiful! Definitely worth the price."

"It really makes lots of things easier took cook on the grill, but fish is the real reason I bought it. When done, I always had trouble getting it off the grill in one piece. The mesh allows me to lift it off the grill and put on the plate intact. Thank you Grillaholics!!!"

"Upon receiving the grill mat I'm amazed. Have used it now 24 times and there is little to no wear shown on the mat on either side. Easy clean up, too! Food is cooked evenly and I still have grill marks on the food as it cooks. I bit the bullet and spent the money on this and am glad I did."
GET MORE SMOKE & MORE FLAVOR WITH OUR MESH GRILL MATS!
Get the same benefits as our traditional grill mats - non stick grilling, no more small foods lost to the grates, and easy cleanup… But with more smoke exposure in our Mesh Grill Mats! Designed with a network of small holes, our Mesh Grill Mats are the perfect BBQ accessory for the smoking enthusiast as they allow for more smoke exposure for increased smoky flavor.
These small holes also prevent juices from pooling on the Grill Mat, meaning you'll get perfectly grilled results, every time.
If you're looking for the next evolution in grill mat technology, look no further than the Grillaholics Mesh grill mat! The perfect grill mat for smoking & bbq'ing.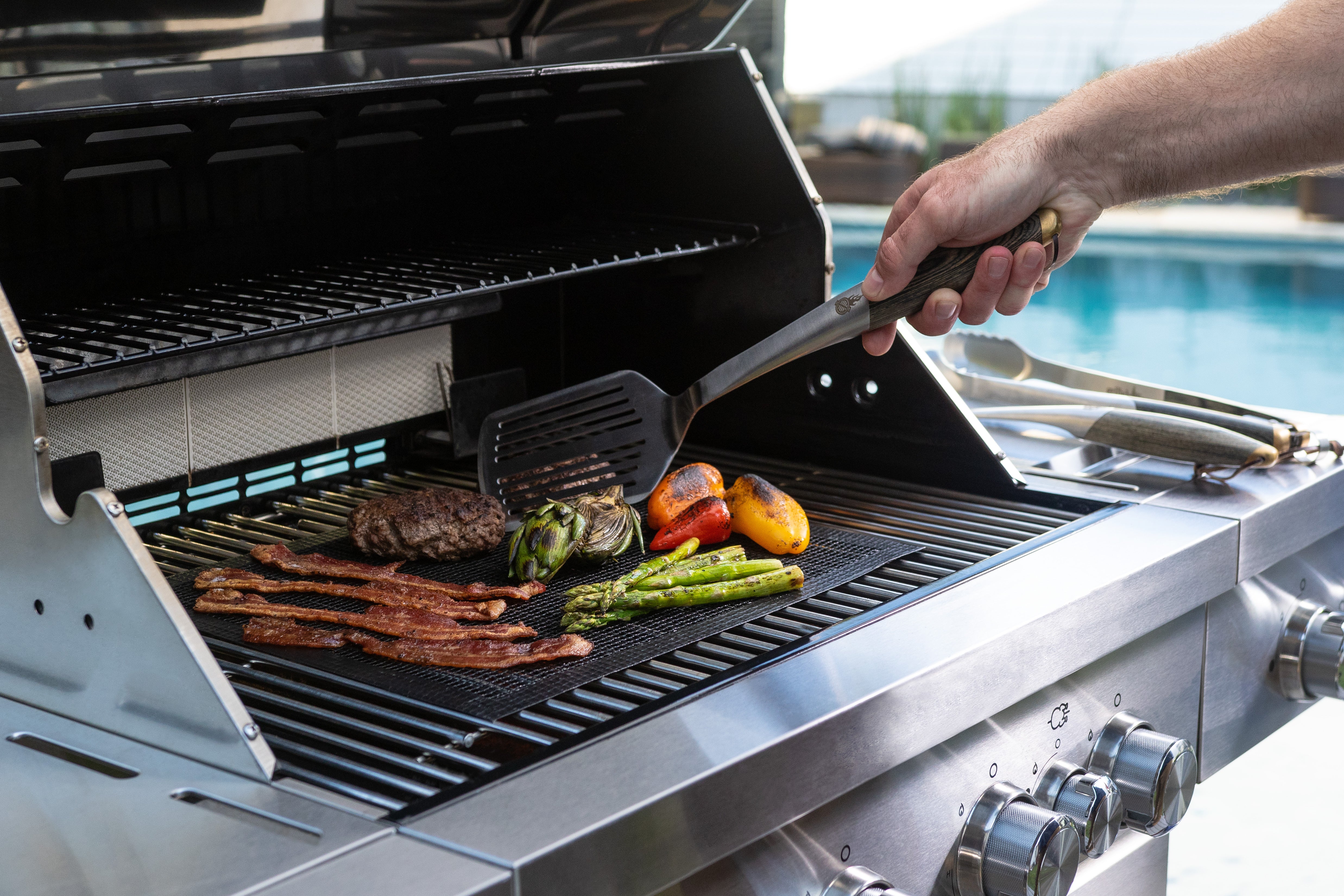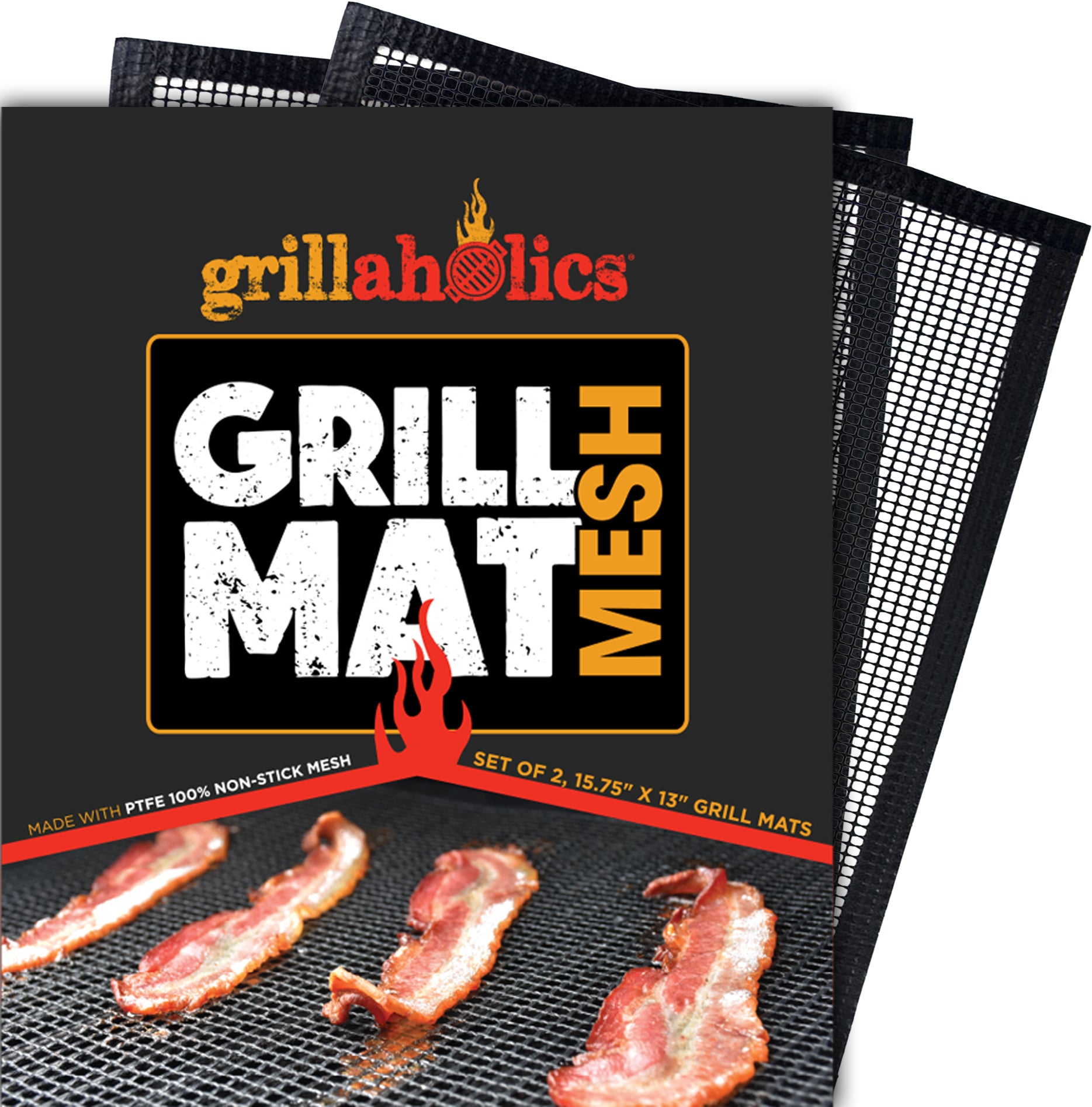 GRAB YOUR GRILLAHOLICS MESH GRILL MATS TODAY
AND START GETTING MORE SMOKY FLAVOR!
Customer Reviews
01/10/2022
mark B.

United States
grill mats
love the mesh mats way more than the originals
04/15/2021
Robert L.

United States
MESH
I have used over 10 different grill mats, and the Mesh is the best for grilling and cleaning.
12/21/2020
Craig B.

United States
Perfect Fit
I have a Recteq 760 with the smoker box. The mesh mats fit perfectly on the grills of the smoker box. They allowed the smoke to permeate the meat. Thanks Grillaholics for great products and customer support. Doc
09/03/2020
Richard G.

United States
Very nice!!
I love these mesh grill mats, allows me to cook small items like mushrooms. Other solid grill mats just collected moisture and never really worked for me.
08/09/2020
William S. Summers

United States
Grillaholics Mesh Grill Mat
I have purchased more than 5 sets of these mats and they are superb! They allow for even cooking and kept my meats from burning. I would highly recommend them and happy grilling.