Grillaholics Essentials Grill Tools






















Grillaholics Essentials Grill Tools
JUST LIKE VAN GOGH HAD HIS PAINT AND BRUSH
JUST LIKE VAN GOGH HAD HIS PAINT AND BRUSH
ANY GRILLER NEEDS THESE ESSENTIAL BBQ TOOLS!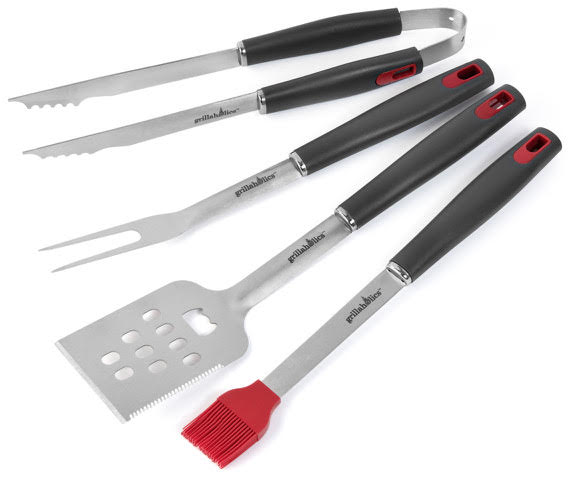 "We absolutely LOVE these grill tools! I got them as a gift for my husband, and we have used them several times since… and they still look brand new! They have long handles, to help prevent burns and they are very sturdy. I would recommend these high-quality grill tools to anyone."
GRILLAHOLICS ESSENTIALS GRILL TOOLS
BUILT
STRONGER.
SAFER.
SMARTER.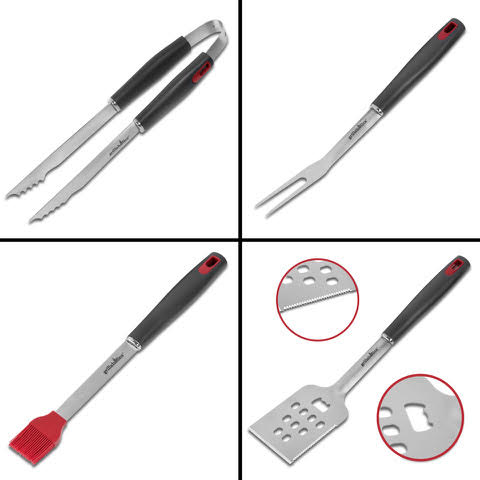 STAINLESS STEEL
CONSTRUCTION
18" LONG TO
KEEP YOUR HANDS SAFE
SPATULA INCLUDES SERRATED
EDGE & BOTTLE OPENER
THE PERFECT GIFT
THE PERFECT GIFT
FOR THE BUDDING GRILL MASTER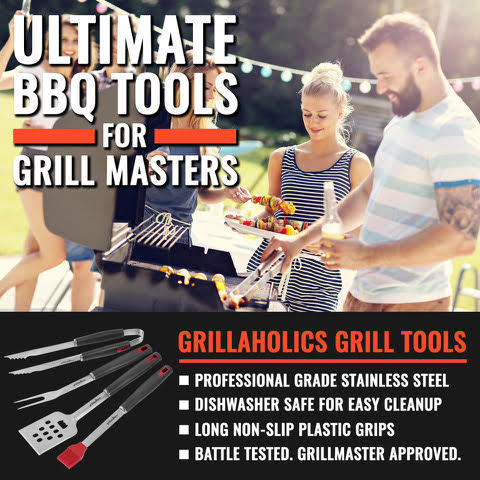 A GREAT GIFT IDEA!

"I bought this barbecue grill tool set for my husband as part of his anniversary gift to go with his new Grill. He absolutely loves them! He uses them all the time. We are doing a lot of grilling due to the stay at home order, and they're holding up perfectly. I would definitely recommend these. Very durable, easy to clean. We'll definitely be buying other items for the grill from Grillaholics in the future."

"Bought this set as a gift for my son. He is very happy with the new tools and loves their quality. The manufacturer has contacted me several times to be sure they were delivered promptly and met my expectations. Their follow up shows that they are a company interested in customer satisfaction."

"I bought this set as a gift for my husband. We are very happy with this set especially for the price. They are very sturdy. He really likes that the spatula has a sharper edge for cutting into the meat. They are easy to clean, even the rubber brush"

"Got them right away and was surprised that they were made of fine quality. The set is very strong and easy to handle. Got great compliments from my son and his wife on how nice they were. Thanks!! I definitely recommend this grill set!!!"
THE PERFECT
BBQ SET
FOR ALL YOUR GRILLING NEEDS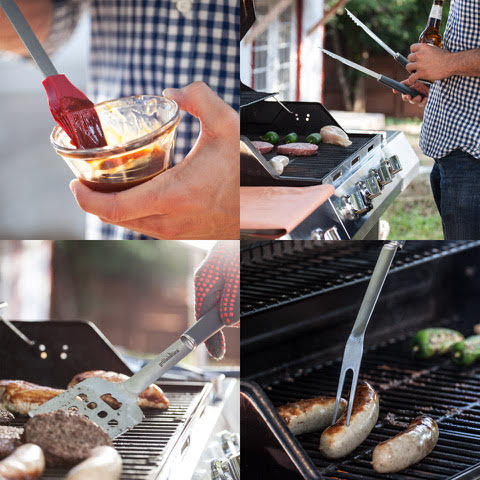 "MUST-HAVE"
GRILLING TOOLS
As Grillaholics ourselves, we know grill tools. And trust us when we say that when you're grilling for a crowd, the last thing you want is a set of cheaply made grilling tools falling apart on you. That's why we took every effort to make sure our Essentials Grill Tool Set not only contains everything a budding pit master will need at the grill, but thatchy would be able to last for years. And then we took them a step further by adding in conveniences like a removable silicone basting brush head for easy cleaning, and integrated bottle openers & serrated edges on our spatula. The finer details coupled with quality construction make these some the best grill tools available.
Don't settle for less than the best. Grab a set of Grillaholics Essentials Grill Tools today!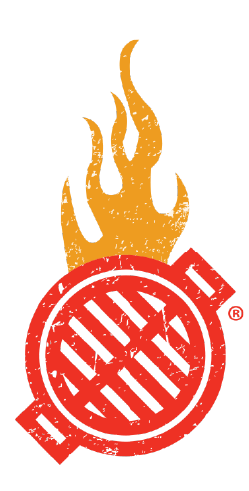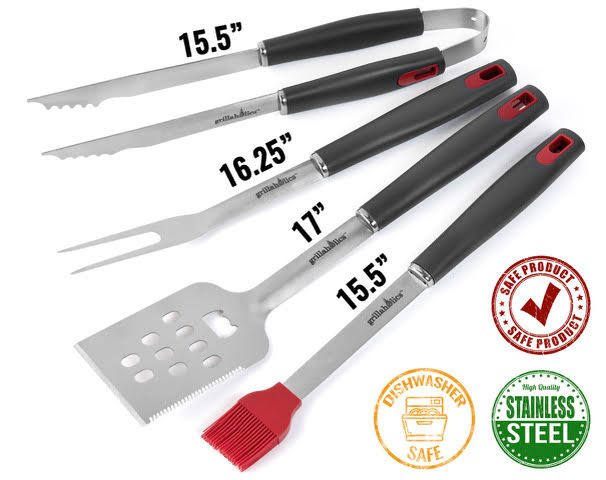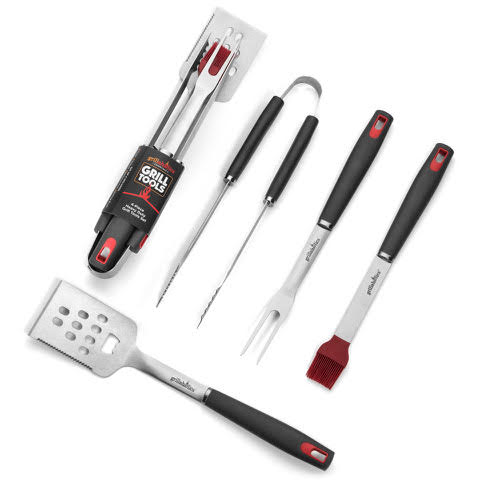 GRAB YOUR GRILLAHOLICS GRILL TOOLS
TODAY AND MASTER THE GRILL AT YOUR NEXT BBQ!
Customer Reviews
Great set of grilling tools
I've had these tools for over 4 years and I am a grill master for sure. I have a Weber gas, Weber charcoal and masterbuilt smoker. Grill almost daily in summer time. These tools still function perfectly and look brand new… after almost 5 years of use. Great product and good price.
05/28/2020
Jadon A.

United States
Great grill tools
All around very great tools for a backyard BBQ
05/01/2020
Greg Y.

United States
Great grilling tools!
The material and construction of the tools is great! I do suggest they enlarge or redesign the hooks so they can be used on all grills, i.e Weber
Happy griller
I had a bbq tool set given to me. I'm no pro at grilling and thought it was a nice set. Boy was I wrong. Utensils fell apart immediately. So I purchased a set from Grillaholics. BOY what a difference. These tools are well made and can handle any job. I love them.
Serious Grilling Tools
This is a serious set of Grilling Tools. My husband appreciates the cutting edge of two of the tools. Very sturdy!