Grillaholics Grill Mat Heavy - Set of 2




















Grillaholics Grill Mat Heavy - Set of 2
BUILT THICKER... TOUGHER... STRONGER.
BUILT THICKER... TOUGHER... STRONGER.
WELCOME TO HIGH HEAT GRILLING.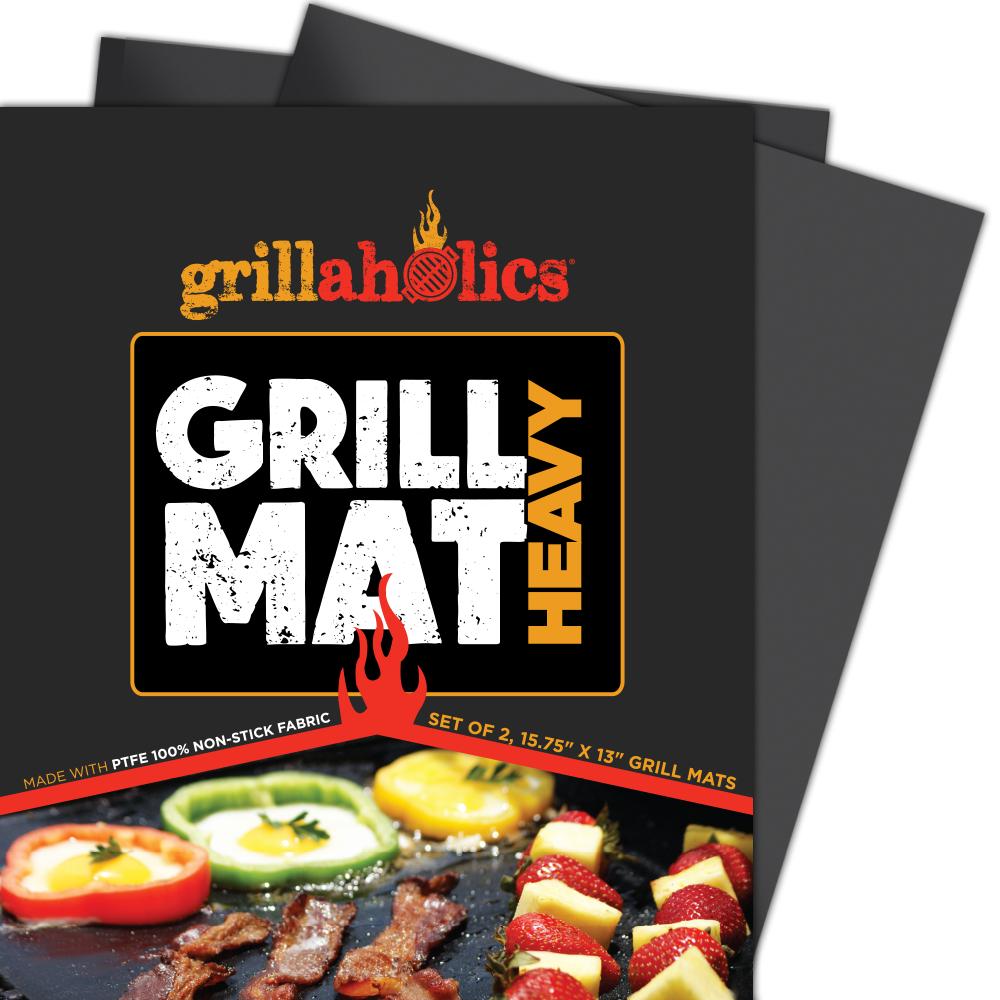 "We grilled with the mats yesterday, and for the first time, I was able to get all the grilled food to the dinner table at nearly the same time! And on top of that, everything was cooked to perfection! The heat spread evenly across the entire cooking surface which allowed everything to cook evenly. I would highly recommend them. When these mats wear out, I will definitely buy more!"
Grillaholics Grill Mats Heavy
GET THE PERFECT SEAR WITH TEMPS UP TO
THE BEST
GRILL MATS
IN THE WORLD START WITH THE BEST MATERIALS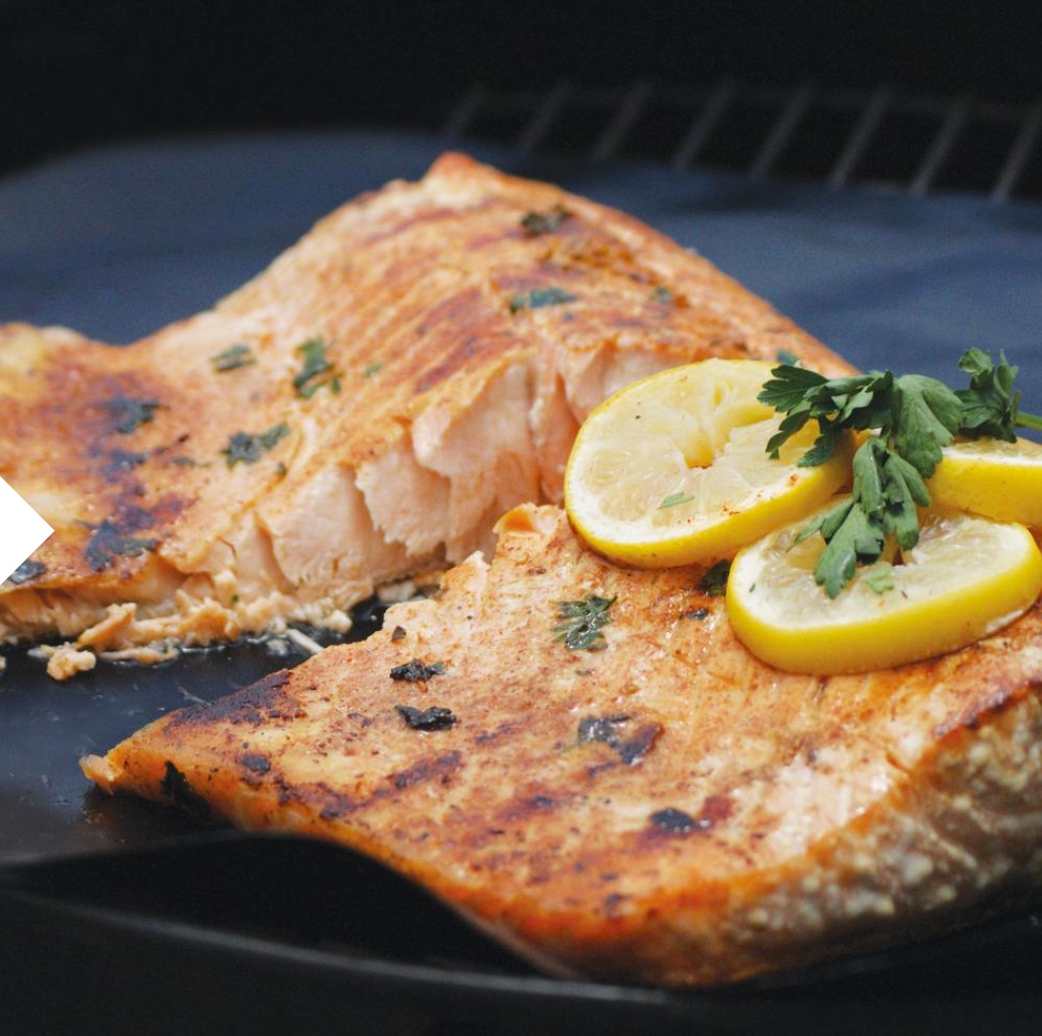 PREMIUM HEAT RESISTANT
PTFE-FIBERGLASS
NO PFOA, SILICONE, OR OTHER HARMFUL CHEMICALS!
RATED UP TO
600ºF FOR HIGH HEAT GRILLING!
A MUST-HAVE GRILLING ACCESSORY
A MUST-HAVE GRILLING ACCESSORY
FOR SEARING STEAKS & BURGERS!
TOOK MY GRILLING TO THE NEXT LEVEL!

"I've been a Grillaholics customer for a while... referred by a friend. I actually grilled up a couple ribeyes on the heavy mats yesterday evening, and let me tell you - I'll use these mats over traditional grilling anytime! The results are awesome and the food is noticeably better! I also have your grill brush. Best I've ever used so far! Keep up the good work and never let your quality decline. Overall, great products!"

"First off, as a self-proclaimed grilling aficionado and a BBQ purist, I don't typically use anything but hardwood lump coal and a match, but I thought I'd give this a try. Simply put, these mats are amazing!"

"These grill mats are just simply the best thing to happen to your BBQ since cavemen first discovered the fire that makes grilled food taste so good! Holy crap. Seriously… Stop what you are doing, click the buy button, and prepare to be amazed. Each sheet weighs mere ounces, rolls up tight, and can be stored in your go-bag easily. It cleans easily with some water and elbow grease, and completely eliminates the need for a grill brush!"

"Wasn't sure about this until it arrived and was able to try it. We loved it, easy to clean, great grilling taste no fuss no muss. Very pleased with this, no more chicken sticking to the grill or burgers breaking apart. Highly recommend this product. Once it cooled the clean up was so easy!!!"
TIRED OF LOSING FOOD BETWEEN THE GRATES?
If you want the same benefits as our traditional grill mats - non stick grilling, no more flare-ups, and easy cleanup… But want want to crank the heat up even HIGHER, our HEAVY Grill Mats are for you! Designed even thicker, our HEAVY grill mats can withstand temperatures up to 600ºF, while still keeping grill marks in tact and increasing the flavor of your grilled foods.
They also promote even cooking, and eliminate the need for scrubbing down your grill with a grill brush!

If you're looking for the next evolution in grill mat technology, look no further than the Grillaholics HEAVY grill mat.

Built stronger so you can grill harder.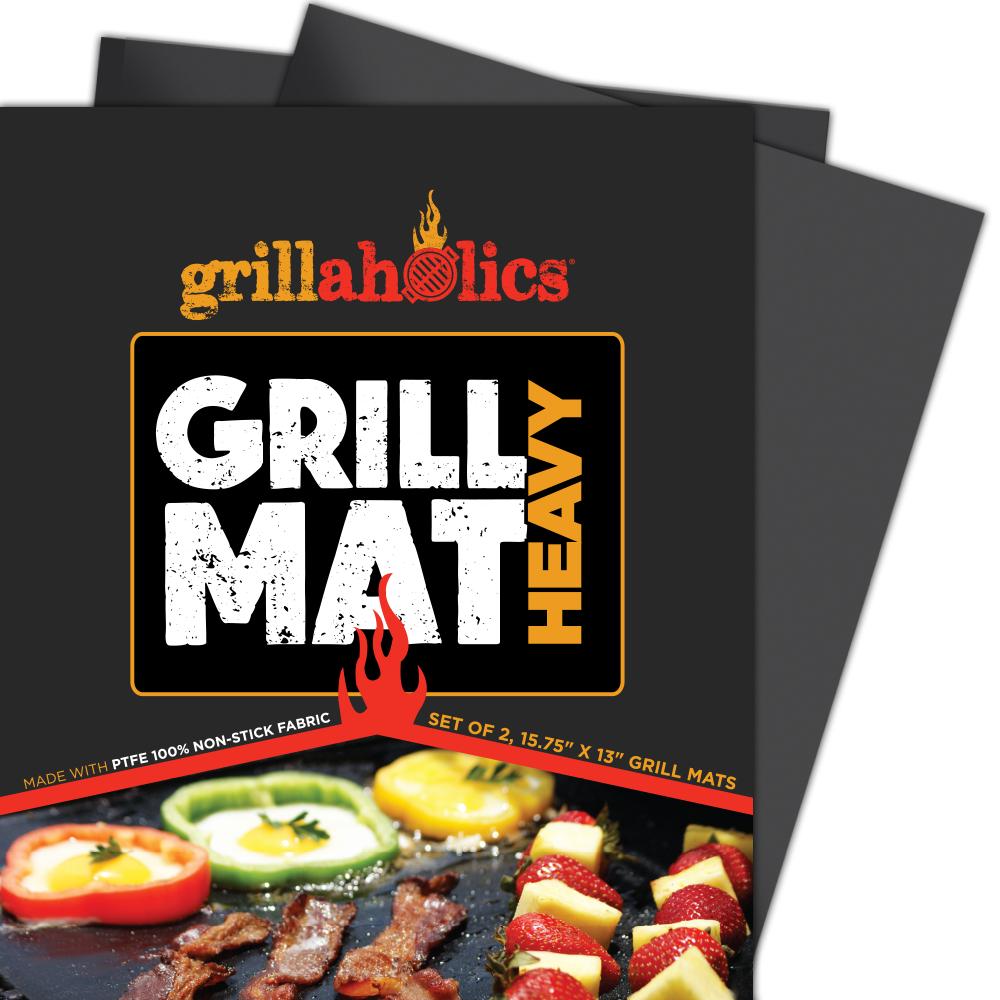 GRAB YOUR GRILLAHOLICS GRILL MAT HEAVY TODAY
AND START GETTING PERFECTLY GRILLED RESULTS. EVERY. SINGLE. TIME.
Customer Reviews
07/25/2023
Mary W.

United States
Grill mat is great
It's very nice to clean a mat instead of carrying in the grill pieces for cleaning. I am going to purchase the grill mat for my brother. They are perfect for salmon and steaks even though the picture shows smaller items.
07/06/2023
Joseph S.

United States
Grill Matt Heavy
Outstanding!! Easy to clean. Use it to primarily cook fish and vegetables. Like using a pan on a stove with the added flavor of your grill. Love it!!
03/26/2023
Otto S.

United States
Evaluation of heavy mat
Impressed with heavy mat. My new grill has ability to sear food. Temp goes over 500 degrees sometimes. This mat does the trick of keeping everything safe. Will order more
04/07/2022
Peter L.

United States
Grillaholics grill matt Heavy.
Good shipping time. Packaged well. Arrived in good shape. Would like to leave a five star rating, however i have yet to use them. Waiting for warner weather.
06/03/2021
Chris L.

United States
Grill Mat Heavy Rocks!
Had a graduation party for my stepson with lotsa people. Family, friends and such. Many burgers and dogs were flamed. These mats make cleanup a breeze. Great product!