Grillaholics Grill Gloves




















Grillaholics Grill Gloves
OUR THERMOMATRIX ® DESIGN HELPS
OUR THERMOMATRIX ® DEISNG HELPS
KEEP YOUR HANDS SAFE FROM THE HEAT!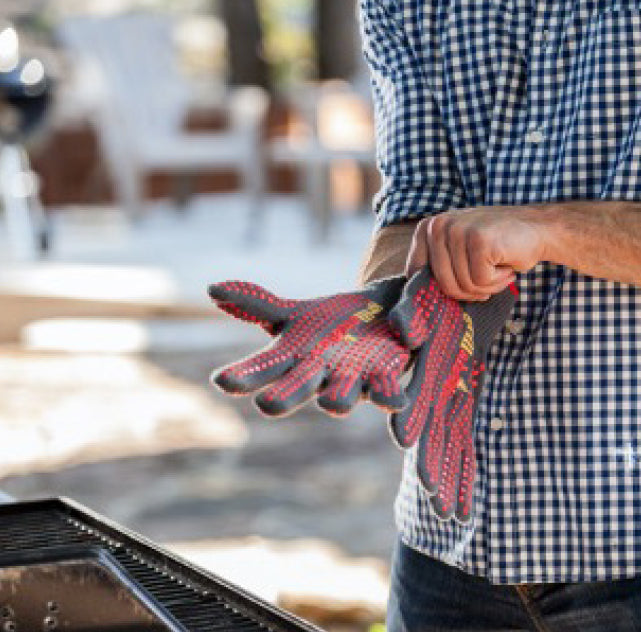 These gloves are the ticket. I bought these to help me whenI'm smoking meats. When I go to get the HOT racks of wonderfulsmelling brisket pork butt and ribs out of the smoker it isusually not an easy task and I usually burn myself. These glovesmake that a cinch I had never used anything like these beforeusually I just used a kitchen towel or pot holder but this allowsme to pick up the 400-degree rack with no problems. I have alsoused them to grill with and no matter how you use them theyare definitely amazing. No muss no fuss easy grilling gloves. mygo-to utensil for grilling and smoking for sure.
GRILLAHOLICS GRILL GLOVES
BUILT
FOR COMFORT & PROTECTION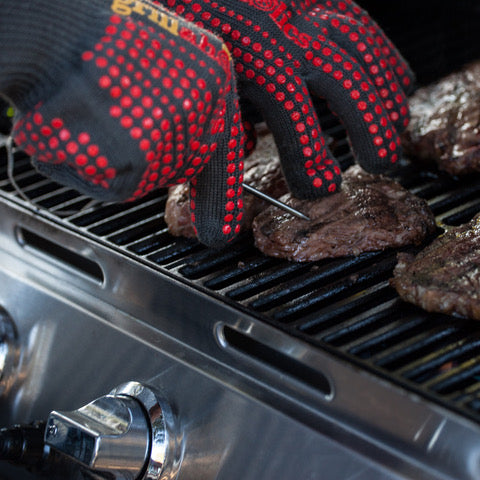 HEAT RESISTANT
UP TO 660ºF!
MADE WITH
SILICONE FOR NO-SLIP GRIP
100%
COTTON LINING
FOR COMFORT
HEAT RESISTANCE & COMFORT…
HEAT RESISTANCE & COMFORT…
THE BEST OF BOTH WORLDS.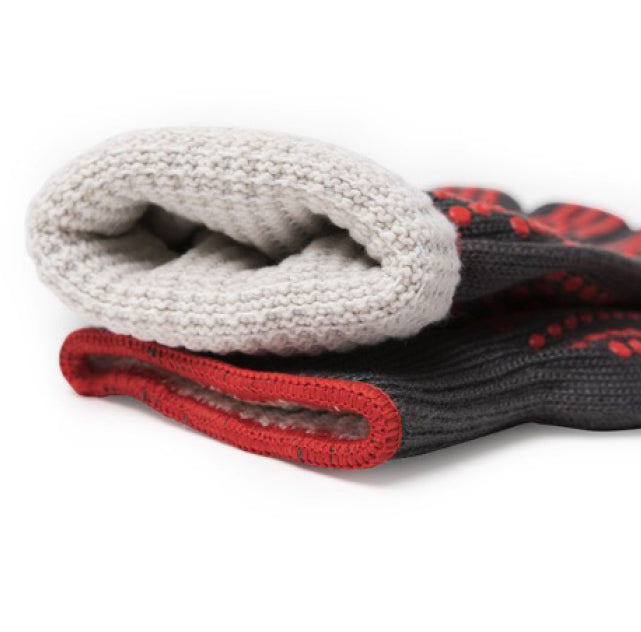 THE VERY BEST OUTDOOR COOKING ACCESSORY I EVER BOUGHT!

"I must say, these are darn good-looking gloves. Of course looks aren't everything, so I'll add that they work darn well too. I use them grilling, and they are very effective, allowing me to directly handle hot tools such as kabob skewers and thermometer probes. They're also comfortable and flexible, so I'm quite pleased so far. We'll see how they hold up in the long run, and I'll update if necessary."

"I've had these over a year and I can't believe I haven't reviewed them yet! I love these gloves. I originally bought them for my husband to use with the grill, but honestly I use them way more. They are the BEST gloves I've ever used to grabbing hot things out of the oven. The only gloves I haven't burnt myself with when handling my dutch oven. A+!"

"I ordered these as I was going to be doing Shish-ka-bobs for about 20 people and knew I would need some extra protection. These were awesome...no burned hands and was about to quickly flip the ka-bobs and then also grill the vegetables in grilling baskets and just mixed them with my hands...worked great!"

"There's only one word to describe these gloves. AWESOME! I was pulling the wood chip trays from my smoker with these. Doesn't get much hotter than that. My wife now wants a pair. Beats the silicone grabbers hands down. I have to buy another pair now... for wifey."
WHEN GRILLING
WITH HIGH-HEAT…
REACH FOR A PAIR
OF GRILLAHOLICS
GRILL GLOVES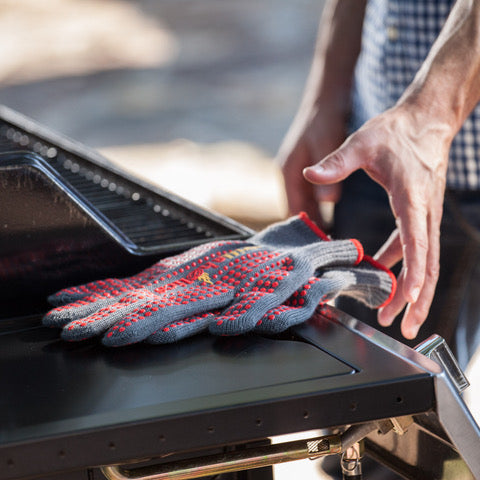 A "MUST-HAVE"
GRILLING ACCESSORY
As Grillaholics ourselves, we're no strangers to burnt hands. Whether you'returning skewers, lifting a grill basket, or refilling your smoker box, keeping your hands safe from the heat is a top concern. That's why we set out to make the best pair of grilling gloves around. We make our Grill Gloves from 100% aramid 1313 / kevlar insulated fibers, then line them with 100% cotton, to ensure these are the most comfortable heat resistant gloves available.
When it comes to your hands - Don't take any chances. Grab a pair of Grillaholics Heat Resistant Grill Gloves today!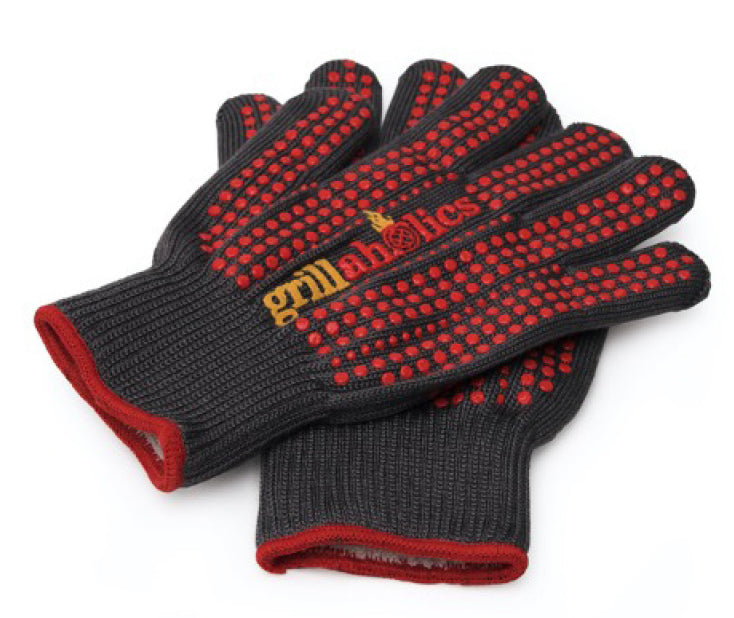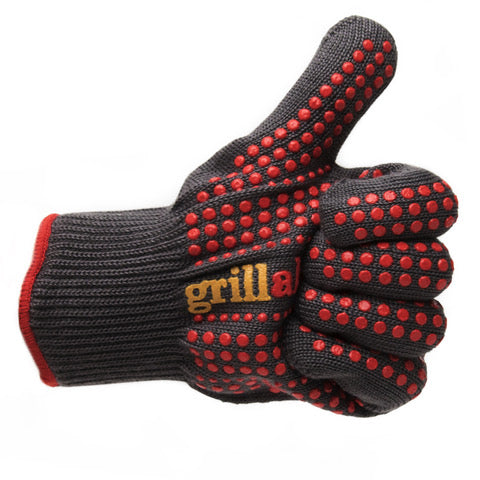 GRAB YOU
GRILLAHOLICS
GRILL GLOVES
TODAY AND KEEP
YOUR HANDS SAFE
FROM THE HEAT!
Customer Reviews
11/27/2021
James B.

United States
Great gloves
These are terrific! Comfortable and keep me from frying my hands.
07/09/2021
Dwaine C.

United States
Fits Like A Glove
I have used several pair of grill gloves and what I've found with most are either too bulky or do not have enough heat protection. These are the best pair of grill gloves I've ever used. Not too bulky and the heat resistance makes handling utensils and foods more manageable. I even purchased a pair for my dad and brother-in-law.
05/25/2020
Robert S.

United States
Grilling Gloves
I have only used the gloves once. So far, I like them. I was able to grip the items, I needed too. Also. I did not feel the heat through the gloves.
05/18/2020
Curtis R.

United States
Grill Gloves
I loved them a lot. Excellent with heat but a little big for my wife who has small hands.
05/06/2020
Larry C.

United States
Just what I was looking for
Great gloves! Fit nice!