Grillaholics Wireless Digital Meat Thermometer
















Grillaholics Wireless Digital Meat Thermometer
MONITOR YOUR TEMPERATURES
MONITOR YOUR TEMPERATURES
FROM THE COMFORT OF YOUR COUCH!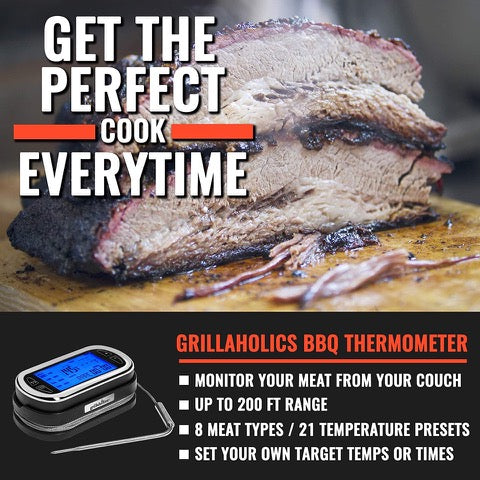 "I LOVE this grilling thermometer! It's especially great because you can put it wherever you are in the house and still knows when your smoking or grilled meat has hit desired temperature. It's easy to use with on-screen instructions, and works good when you have folks over...you don't have to stand by the grill or oven!"

GRILLAHOLICS BBQ THERMOMETER
MONITOR
EVERY DETAIL
FROM THE COMFORT OF YOUR COUCH
GRILLING
JUST GOT
A LOT EASIER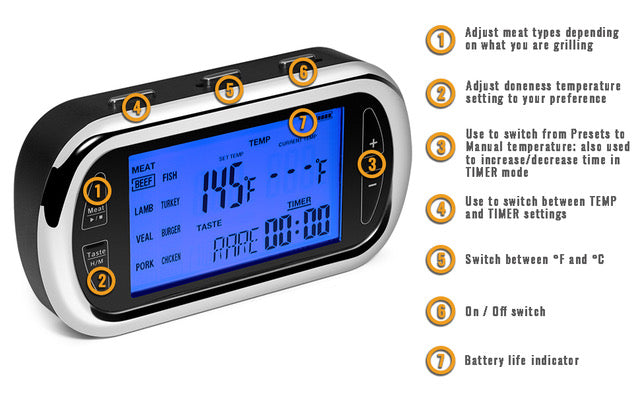 USES REMOTE
WIRELESS TECHNOLOGY
NOW YOU CAN WATCH THE GAME & STILL
NOW YOU CAN WATCH THE GAME & STILL
GET PERFECT RESULTS EASIER THAN EVER!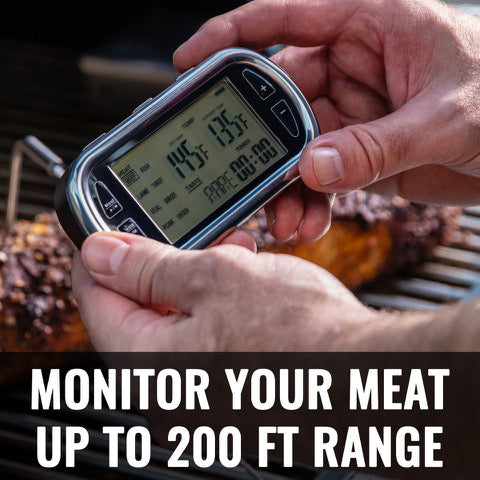 THE VERY BEST OUTDOOR COOKING ACCESSORY I EVER BOUGHT!

"I loved that there was no setup. Just install the batteries, and you're good to go. So very easy to use. I just put it on the type of meat I was cooking, and how well done I wanted it, then went about my business prepping the rest of the meal. No guess work. Being able to have the readout right next to me where ever I was in the house made it the perfect accessory. Get it, you won't be disappointed. Worth the cost."


"This thermometer was a Christmas present that I have used often since I got it. I love it so far. Relatively easy to use and easy to clean the probe. I love that i can take the face off the base and take it with me to another room. You can set it to the doneness or specific temperature which is nice. Seems to be very accurate.
Time will tell how durable it is but it is holding up well so far."


"Love the ease of use, ease of cleaning, and knowing that the food I serve my family is cooked to safety standards!"


"For the price this is a great product. It does the job and easy to use...I I like the reference chart built in for various meats. saves time . Did both a roast on the grill and in the oven both came out perfect. One small issue is they should have a slot in the unit to place the probe."

SPEND LESS TIME CHECKING TEMPS
AND MORE TIME
MAKING MEMORIES
WITH FRIENDS & FAMILY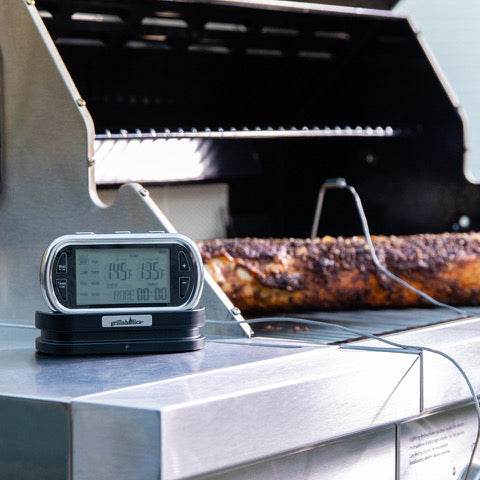 IT'S 16-14 AT HALFTIME
OF A PLAYOFF GAME…
And you've got a steak on the grill… Do you run out to check on the temperature of your steak, or watch your team get the winning touchdown? Well, with the Grillaholics Wireless Grilling Thermometer, you can do both! Never miss a moment of the big game, or making memories with friends and family again! With up to 200' of range, your new remote meat thermometer will alert you when your grilling or smoking meats come up to temp, and with our pre-programmed settings, you'll never half to guess what tempo. Medium rare is again!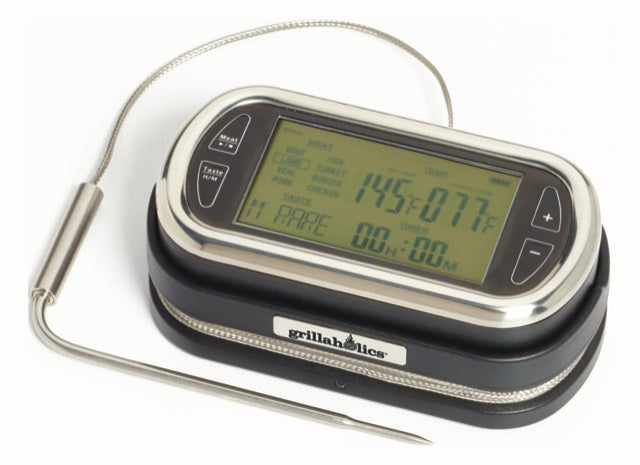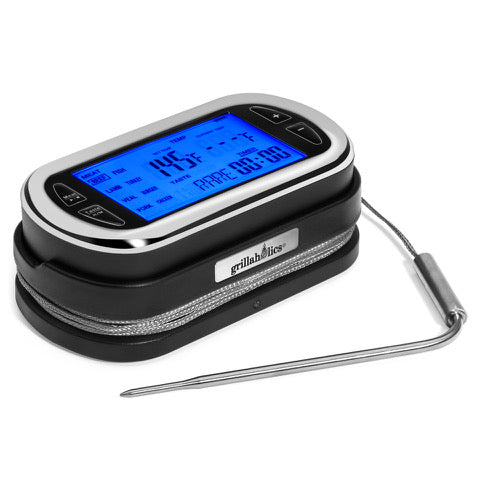 GRAB YOUR
GRILLAHOLICS
GRILL TOOLS
TODAY AND
MASTER THE GRILL
AT YOUR NEXT BBQ!
Customer Reviews
Very good tool
Love this tool. Saves a lot of going outside to check the grill/meat temp. Just wish it could Bluetooth to my cell phone.
07/09/2021
Terry M.

United States
Wireless meat thermometer
Love being able to monitor the temperature of the meat without opening the smoker lid and losing that valuable heat and smoke. I can utilize the wireless monitor inside while prepping the sides to go with our meal. Great product!!
11/12/2020
Ron V.

United States
Christmas Gift
I bought this as a gift for Christmas.
09/09/2020
Aaron W.

United States
Digital thermometer
Bought two of them . One was missing a probe. But the one that had the probe works great. Never had better steaks or chicken because of it.
08/15/2020
Lowry J.

United States
Wireless Thermometer
Love my wireless thermometer, it pretty much does everything but put the meat on the grill, the preset temperature for different meats is awesome, easy to use, love it ,love it