Grillaholics Stuffed Burger Press
















Grillaholics Stuffed Burger Press
TAKE YOUR BURGER GAME TO THE NEXT LEVEL
TAKE YOUR BURGER GAME TO THE NEXT LEVEL
WITH A GRILLAHOLICS STUFFED BURGER PRESS!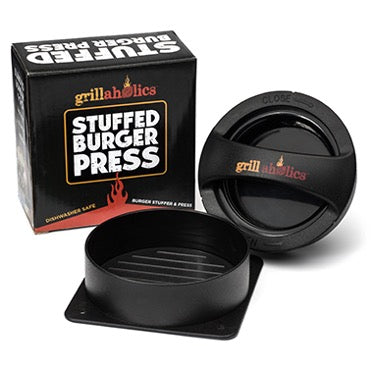 I LOVE this burger press!!! It has made me famous with mysummer BBQ dinner guests!!! I surprise my friends by putting alltheir favorite burger toppings INSIDE their burgers. It's so much funand quite a surprise!!! I LOVE it so much that I ordered one for eachof my BBQing brothers for their birthdays!!! Did I mention that I LOVEthis product??? LOL If you love to BBQ and love burgers and lovethem with toppings, BUY.THIS.NOW. Have recommended it to friendsand they have purchased and love it too!"
GRILLAHOLICS STUFFED BURGER PRESS
WHO SAYS
YOUR TOPPINGS HAVE TO GO
AS EASY
TO USE AS
1. 2. 3!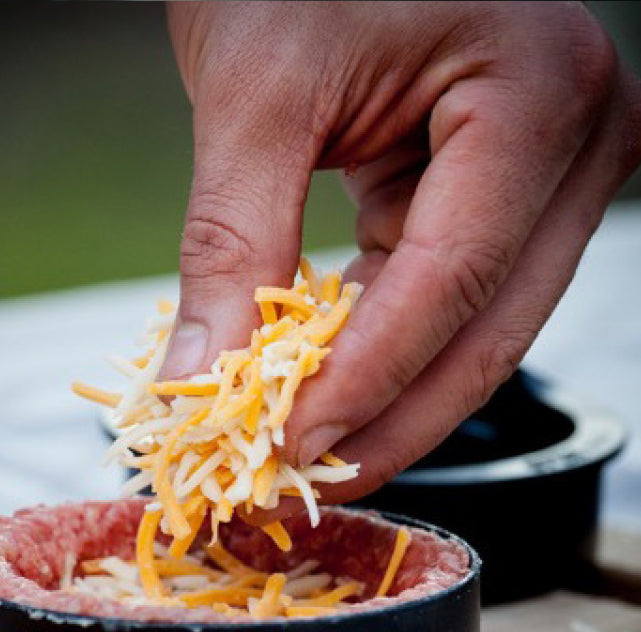 MAKE HUGE STUFFED BURGERS
MAKE HUGE STUFFED BURGERS
ANY NIGHT OF THE WEEK!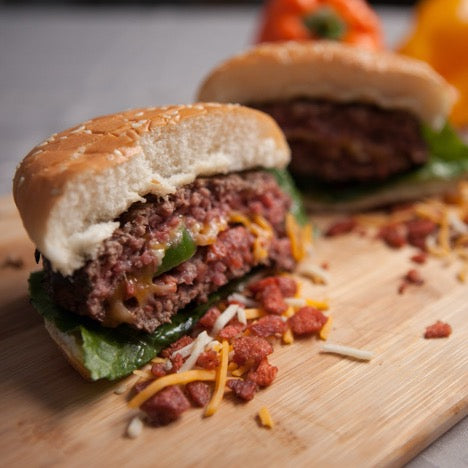 IT'S SO EASY TO USE… NOW WE HAVE BURGER MULTIPLE TIMES A WEEK!

"I've made stuffed burgers before by hand and it's quite a messy and difficult job. The Grillaholics stuffed burger press, however, takes the difficulty right out of making stuffed burgers! My husband loves them and I'm glad that they're so easy to make, I can offer them to him more often. I would highly recommend this product to anyone interested.It's more than just a burger press. It's one of the more helpful items in my kitchen."

"Absolutely amazing! Not only do your burgers come out perfectly formed, they somehow even taste better! And you can even use it to make the perfect dimple in the inside of your burger and stuff the burger with cheese, and that is the best thing ever!"

"After years of unsuccessfully trying to stuff my own hamburgers, I decided to try this out. I wish I had thought about buying something like this long ago. It's easy to use, easy to clean, and it makes perfect stuffed burgers. I let my imagination run wild when thinking of things to stuff burgers with...even Korean kimchi. I couldn't be more delighted with the purchase."

"I use to have to go to a certain Philadelphia based bar to get a stuffed burger. Not anymore, I can make them at home. It is the little things in life that make it all worthwhile. The stuffed burger press makes perfect burgers and perfect stuffed burgers too! A quality product that will last forever."
GET PERFECT
RESULTS
EVERY TIME!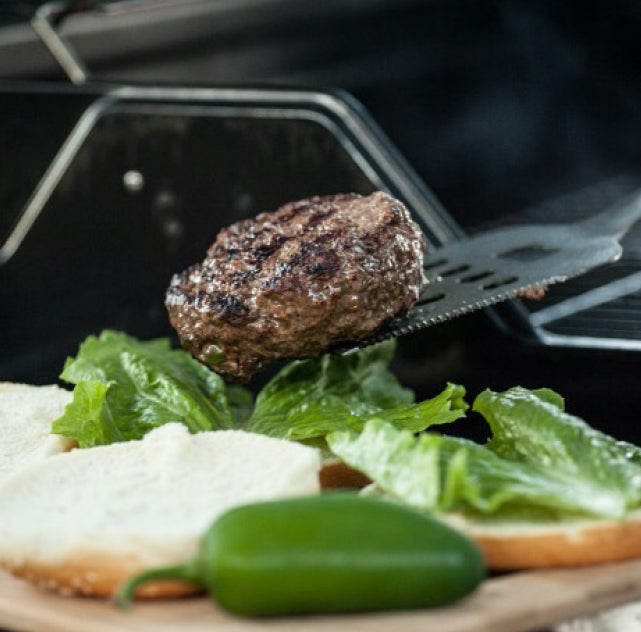 STOP MAKING
BORING BURGERS
With our Stuffed Burger Press, making burgers is FUN again! Just Press It,Stuff It with whatever you like (Your imagination is the only limitation!), thenseal it! In no time, you'll have HUGE, perfectly proportioned burgers that cookup evenly, so there's no guesswork. And it's great for large parties! Imagineno more tough, pre-formed store-bought patties, and no more having to formeach burger by hand! The Grillaholics Stuffed Burger Maker is so easy to use,you can crank out TONS of patties filled with whatever your guests want inno time!And when you're done, just toss it in the dishwasher! It's that easy.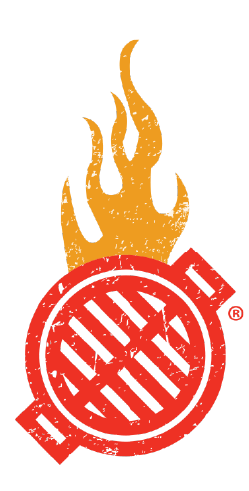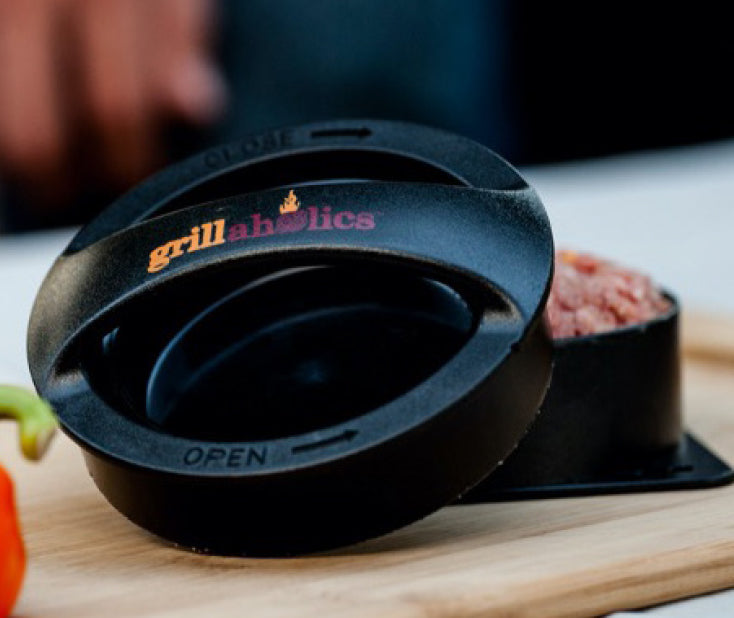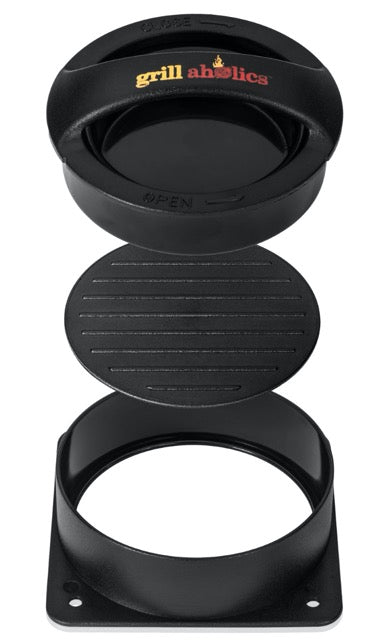 GRAB YOUR
GRILLAHOLICS
STUFFED BURGER PRESS TODAY AND
START GRILLING
THE BEST BURGERS OF YOUR LIFE!
Customer Reviews
03/26/2022
Raymond D.

United States
Good tool
Stuffer works great. Makes burgers just as advertised. Does a great jo. Makes it very easy
02/21/2022
Donna U.

United States
Stuffed Burger Press
I bought one for our house. We used it and just loved it. I have made stuffed burgers before, but they were never uniform. This makes it so easy to put mushrooms, cheese, peppers, whatever into the middle of the burger. So, bought one for my son and my brother in law!!
12/24/2021
Bob S.

United States
Great Grilling Tool
This item works the nuts! My wife & I are now able to prepare our burgers stuffed with all kinds of tasty treats, like bacon, cheeses, mushrooms, onions, etc. etc. The press keeps everything nicely packed inside until the first delicious bite. We absolutely LOVE it!
07/02/2021
Lynne H.

United States
We love it!!
We love this burger press! You can make stuffed burgers or thick burgers without stuffing (which is what we like to do). I did a bunch of research before purchasing this burger press because I wanted to make sure I was getting a good one for my husband. This one was recommended most—and we are happy with it!