Grillaholics Pro Steel Grill Brush




















Grillaholics Pro Steel Grill Brush
TRIPLE MACHINE TESTED FOR BRISTLE STRENGTH & SAFETY.
TRIPLE MACHINE TESTED FOR BRISTLE STRENGTH & SAFETY.
SO YOU CAN CLEAN YOUR GRILL WITH CONFIDENCE.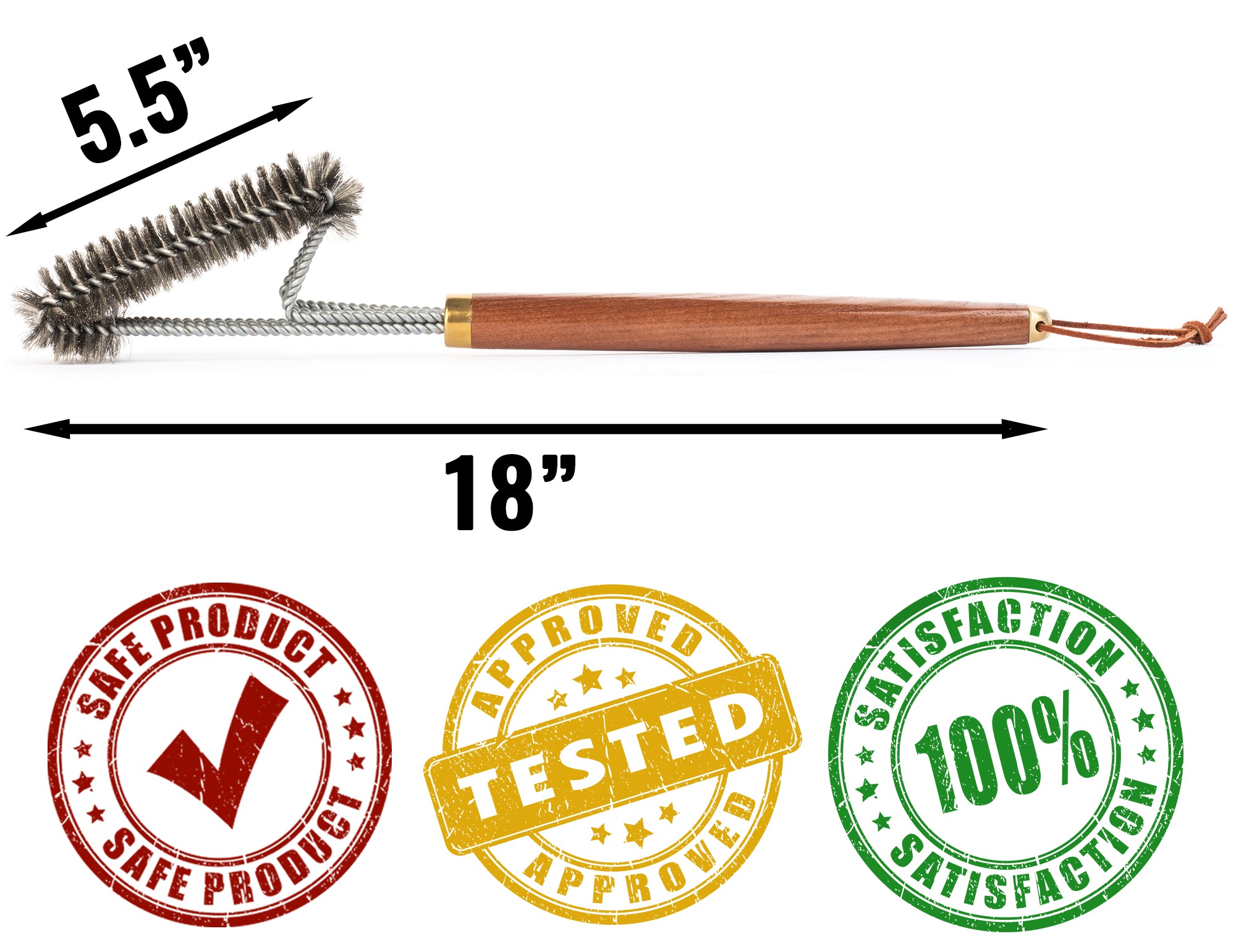 If it's sold by Grillaholics, there's really no reason to even check- Products are highest quality and customer service is the bestin the country. These brushes are first class - I used them on allmy grills (7 believe it or not) as soon as I got them then was ableto clean the brushes in the dish washer. Beautifully designed andmanufactured - Very little chance of a bristle breaking off.
GRILLAHOLICS PRO STAINLESS STEEL GRILL BRUSH
BUILT TOUGH
SO YOU CAN CLEANUP IS QUICKER THAN EVER!
BUILT STRONGER.
SMARTER.
SAFER.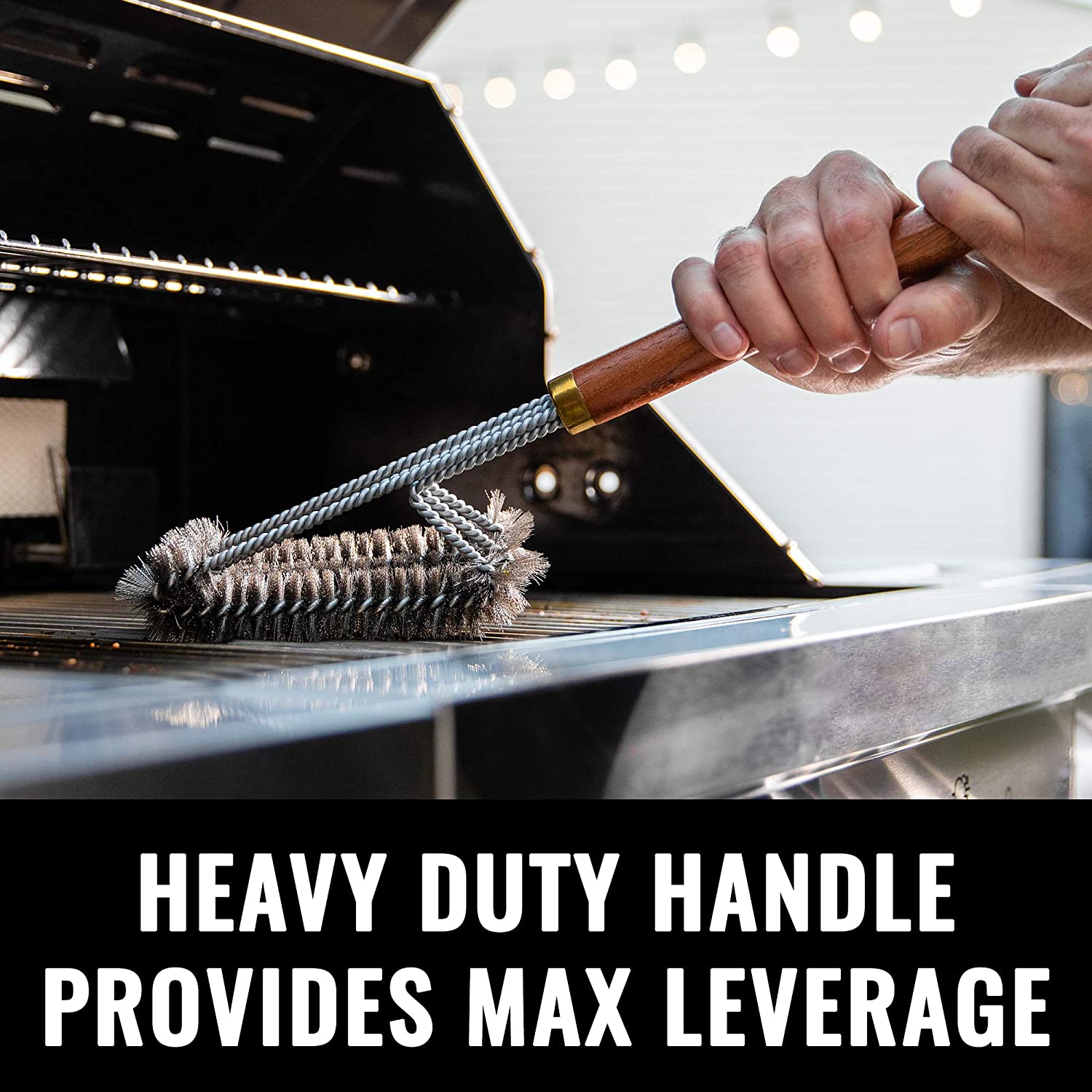 HEAVY DUTY HANDLES
FOR EXTRA LEVERAGE
LARGE HANGING LOOPS
FOR EASY ACCESS
TRIPLE MACHINE TESTED FOR
SUPERIOR SAFETY
GET YOUR GRILL CLEAN
GET YOUR GRILL CLEAN
UP TO 5X FASTER!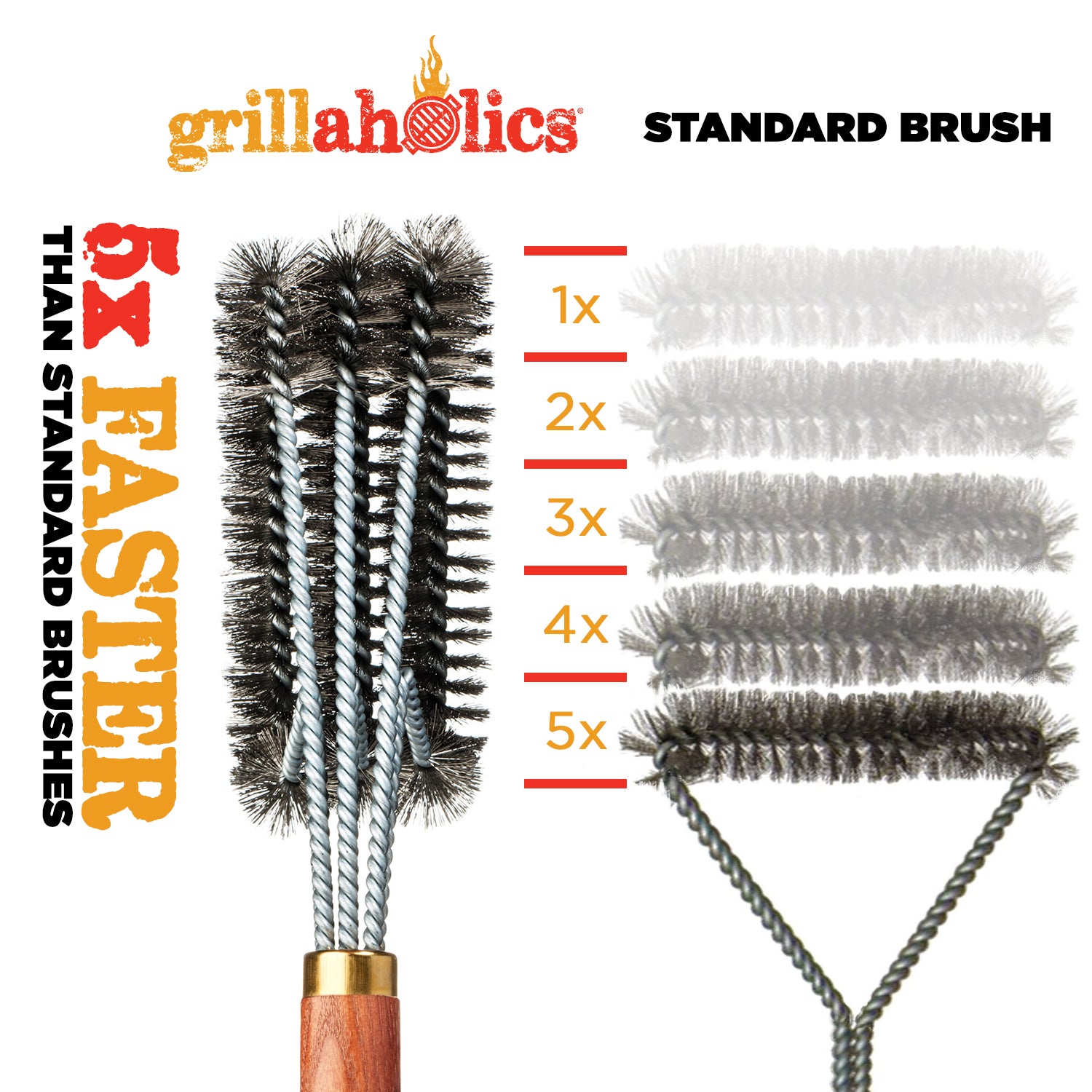 GET THE GRILL
CLEAN FASTER!

"This is a heavy duty bbq grill brush, and I'm so glad I found it! I bought one brush from Walmart and it completely broke off the first time we used it. But I found this one with good reviews and decided to try it out. My husband was so excited to try the new brush out he didn't seem to mind cleaning the grill this time :) One thing to we noticed about this brush is it seems to be really good quality! No bristles fell off which happens all too often with grill brushes."

"Nothing says summer like grilling out with friends and family. The worst part of grilling for me is cleaningafterwards. This sturdy grill brush not only makes cleaning easy, but is easy to clean. The material is high quality andthis far seems like it will last for quite some time. I would highly recommend it."

"The best made grill brush I've ever had. Strong, great quality and the bristles are small enough to get into the corners yet strong enough not to break off or bend out. I like the way the handle is on an angle that makes it easier to use than other brushes. I recommend this highly!"

"I got tired of buying flimsy grill brushes every year and decided to invest in one that is worth the money. This grill brush is heavy duty, NOT flimsy at all, large brush head makes cleaning the grill fast. The bristles are thick, getting everything off the grate. I don't think I'll ever need to buy another grill brush again!"
SAFE, POWERFUL GRILL CLEANING!
Our Essentials Grill brushes are built to be 18" long, and built from strong, beautiful wood & durable, twisted stainless steel. That means they're built strong enough to stand up to a little elbow grease, and long enough to keep your hands safe from the heat.
Then, we went a step further by triple machine testing our brushes to make sure you're getting a safe grill brush for your family. Lastly, we gave them built-in hanging loops for added convenience. All this means you're getting a strong, convenient, and safe grill brush that'll cut your grill cleaning time in half.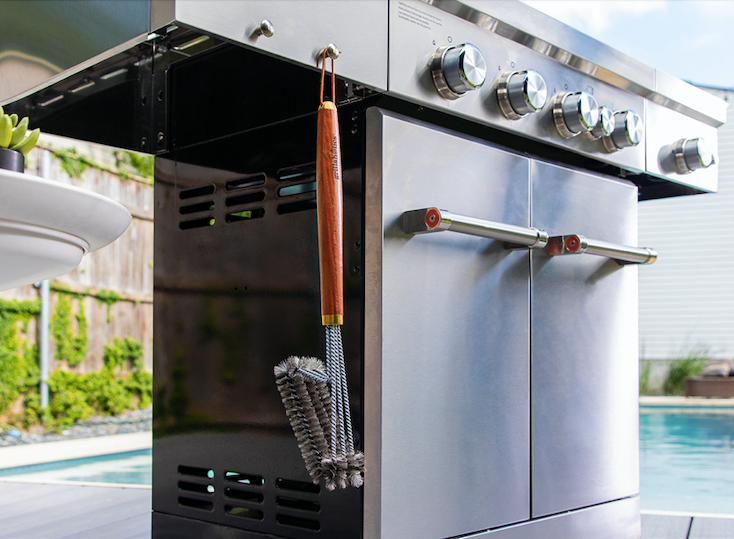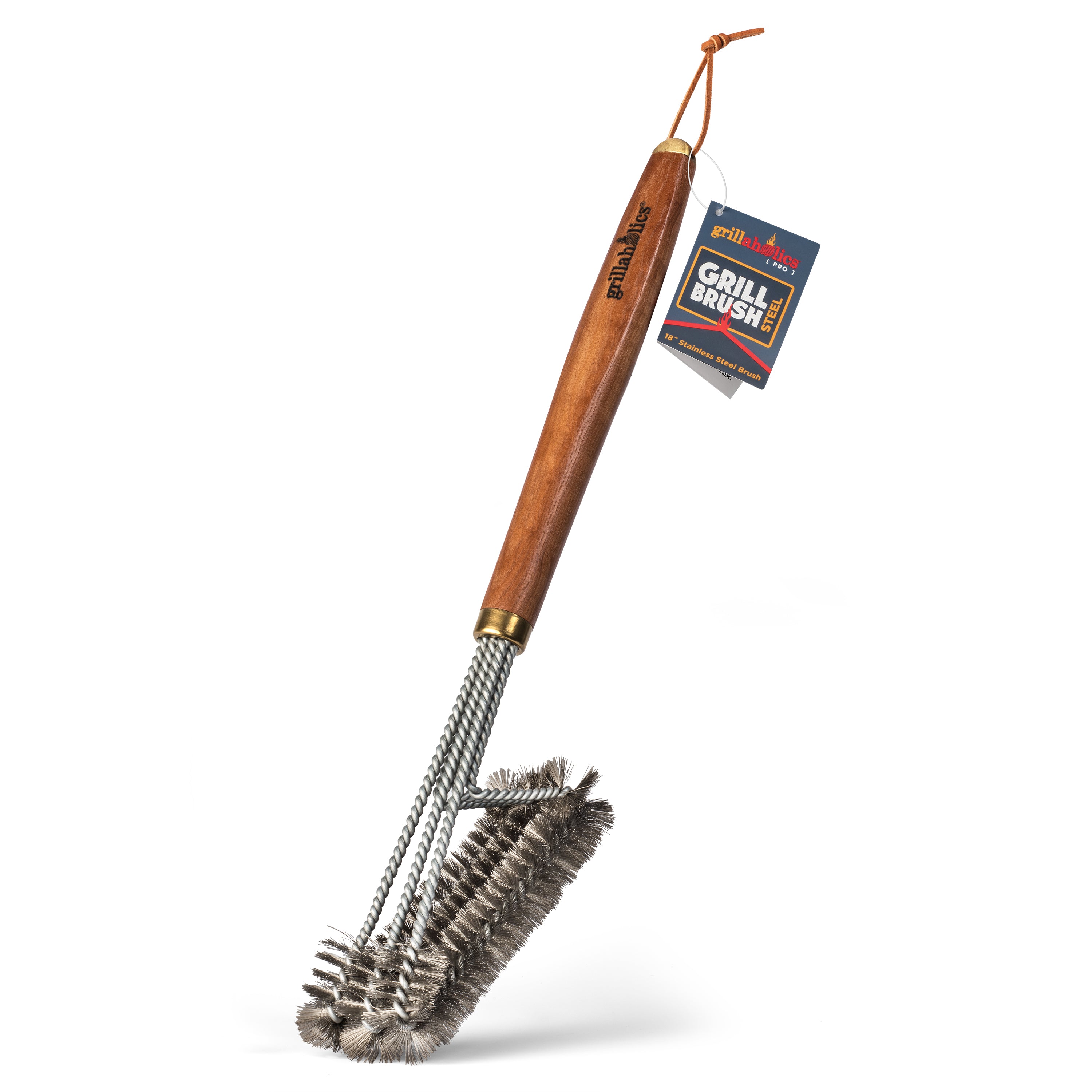 GRAB YOUR GRILLAHOLICS STEEL GRILL BRUSH TODAY
FOR EASY, SAFE, POWERFUL GRILL CLEANING
Customer Reviews
12/07/2021
Walter W.

United States
Great brush
I purchased this brush (my second) because I wanted a back-up. I'm still using my first brush going on my third year. It is holding up great after many uses.
02/24/2020
Starr N.

United States
Amazing Customer Service
We absolutely love our grill set. We did have one minor issue with the tongs, but after contacting grillaholics they immediately sent a replacement. Customer service was very pleasant and actually received a very nice hand written note. Miss this personal touch from businesses today. Outstanding company and will definitely spread the word to all my friends and family.
High Quality Grill Brush
This brush turned out to be better than I had expected and hoped for. It does an excellent job of cleaning my stainless steel grates with little effort. The brush does all the work. Excellent quality.
Excellent grill brush!
The best grill brush I have found for grills with flat bars (vs round).