How To Lose Weight By Grilling
Posted by Josh Gilmore on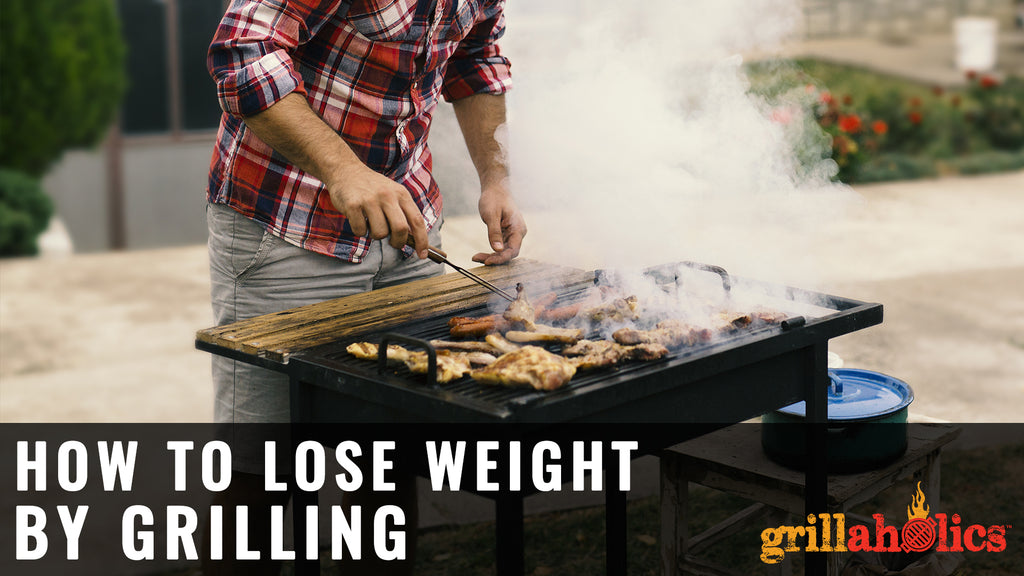 With the holidays approaching, you need to address some meaty topics. How can you enjoy all the grilled turkey, ham, steaks, burgers, kabobs and other festive protein dishes without becoming Santa size? That's a lot of baggage to tote around, but the holidays would be pretty bland if you tried to eliminate all your favorite dishes. Luckily, you can effectively diet while getting your fill of sizzling, grilled meat. Come 2018, you should be able to put on a Super Bowl party without wearing a red suit.
Keto Diet
Carnivores and the keto diet are a match made in grilling heaven. The process of ketosis is a little long and slightly scientific, but you only need to know the basics. In short, your body doesn't really need many carbohydrates to operate properly, and most of us eat WAY too many of them. Your body converts all these excess carbs into stored fat, the stuff that bulges in all the wrong places on your body. That's why your potato chip, beer and cookie meals are such bad news for your body.
When following the Keto diet, you keep your carbohydrate intake low and your fat intake high, so you can enjoy a delicious holiday roast or ham as long as you forego most of the rolls and cake. When you follow this diet plan, your body cannot draw enough fuel from carbs you eat and has to burn fat, creating ketones, a different fuel for your body. Your brain will like the difference, and so will your body. You are essentially creating a chemical reaction that burns more fat than what you are eating. This process can help you get thinner in a rather short time period. You don't starve yourself and can pig out on pork or another favorite critter.
When the holidays roll around, you can go heavy on your favorites without feeling guilty. Meat, meat and more meat works great, especially if you add some vegetables to your main course. Even if you aren't a veggie lover, throwing some squash, asparagus or another healthy item on the grill adds flavor and texture. Plus, they add some holiday color to the entire meal. It will look good and taste great!
Giving up most of your carbs may be hard, but you can comfort yourself by enjoying the juicy meats that you love. Bacon, hot wings, and cheese are all allowed in the keto diet, so you've got plenty of delicious options to get you through.  Remember, keto only works if you are prepared to embrace the entire diet. Simply eating lots of meat while you gobble a few loaves of bread won't cut it. Instead, you'll have to buy bigger pants and a stronger couch.
Grilling Light
If you aren't ready to go full-on keto, you can still make your grilling experience tasty while keeping things healthier. The best part is NO ONE NEEDS TO KNOW. You can work your magic on your favorite grillable items without your guests knowing they are being kind to their bodies. The medical community suggests eating lots of fruits and vegetables. While you have probably heard that advice for years and years, you may have chosen to ignore it. Grilling these healthy foods, however, gives them an entirely different appearance and flavor, making them more of a treat to eat and less a duty to consume. Toss some tomatoes, onions, pineapples and peppers on the grill, and you'll create a colorful flavor explosion.
If you are not going keto, you need to keep your meat cuts lean, so trim the fat. You don't have to take it all -- fat tastes pretty good -- but you need to remove the excess. Instead of just slathering on the barbecue sauce, increase the flavor and keeps things a tad lighter by using a marinade. The number of marinades you can try is nearly limitless, and anybody who knows their way around a grill has made a few. Masters of the grill shouldn't be afraid to try different things that can take their barbecuing to the next level.
Watch the Sides
The meat you eat is usually not the main problem. Your barbecue sides are what add the calories. If you serve your turkey with potato salad, huge dinner rolls and all the chips and dips anyone can eat, you are in danger of developing a gut that hangs over your pants. You don't have to give up everything that contains mayonnaise but reducing the number of those dishes is a good idea. Everyone loves salsa, so use it instead of sour cream-based dips. And if you can bear it, don't cover everything with cheese, including your meats. You may love cheese, but smothering your dishes with it also masks their flavor. Not everything needs to taste like cheddar.
Want to keep your holiday diet to yourself? No problem. Adopt a calorie-reducing strategy or go full-on keto. No one but you and your family needs to know. You can even have people over for holiday meals without revealing your lower-calorie plan.
If you can't imagine living life without some good barbecue, you can relax. Eating healthier and even dieting can be accomplished with your best bud: the grill.  And armed with the finest grilling accessories from Grillaholics, dieting will be easy as pie. Wait...don't eat any pie though!