Top 7 Reasons To Grill In The Fall
Posted by Josh Gilmore on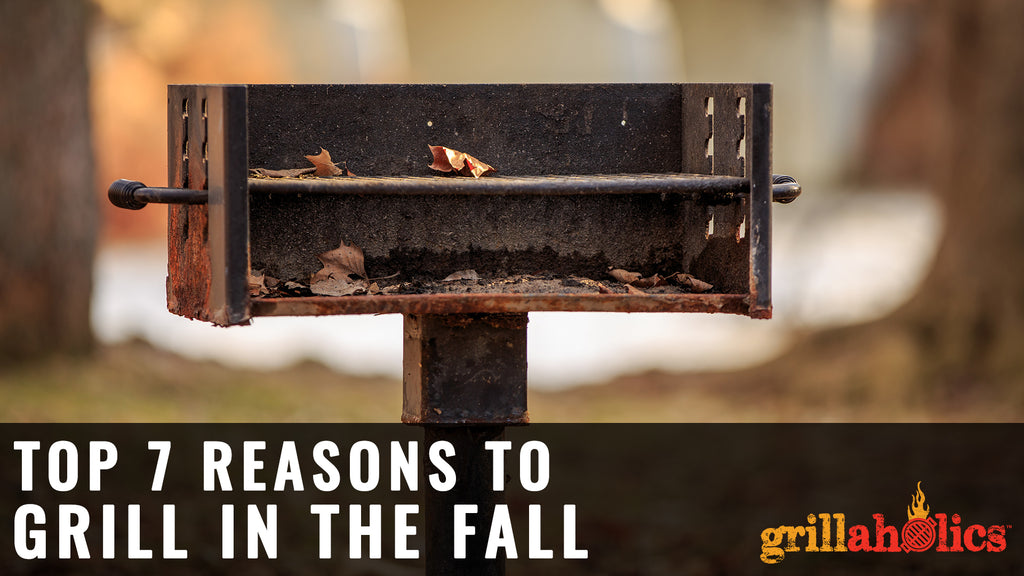 You know, when I woke up this morning to a crisp, 43° morning, I quickly realized that summer was officially gone. And that got me thinking...to most people, summer is considered the "only" time of year to grill. But as Grillaholics, we take pride in the fact that no matter what the season, grilling is always on our to-do lists.
As you start weatherproofing your home for winter, you may be tempted to put the grill away till spring — but hold your horses! Most grilling experts know that fall is actually one of the best seasons for grilling. Here's why.
1. Perfect Grilling Weather
Summer somehow became synonymous with BBQ, though no one really knows why.  Now as Grillaholics, it doesn't matter if it's 0° or 100°, we're willing to brave the elements for our one true love.  But let's be honest with ourselves for a second...those 100° days are not the most exciting.  I know that I personally sweat like a pot belly pig in a sauna.  Give me a few minutes on the grill in the mid-July sun and I look like I just won a wet t-shirt contest (a sight nobody wants to see).  Don't get me wrong, I'd risk heat stroke any day if it means getting to listen to the beautiful sizzle of meat on the grill.  But that's where Fall comes in clutch. Thanks to the cool breezes and lower temps, I can enjoy my passions without looking and feeling like Frosty the Snowman in the Sahara Desert. Not to mention, most of the annoying pests are gone for the year, meaning you can enjoy your burgers fly-free.

2. Tailgating Season
Football is one of the ultimate autumn pastimes, and any good tailgate party requires meat.  Whether you're headed to the stadium itself or just watching from home, there's no better way to make everyone around you jealous than by filling the air with delicious smoke. Hamburgers, hot dogs, steaks and ribs are all tailgating classics that are sure to please any crowd, and since you are the resident Grillaholic, that means it's your time to shine. Grill before the game if you like, or use halftime to cook up some hot dogs for the crew.  And remember, the only time Grillaholics take a knee is to check on our ribs on the bottom rack of the smoker.  When the national anthem comes on, take a break from grilling and honor those who fought for your freedom to grill on the weekends.

3. Beer Tastes Better With Meat
Sure, beer is great on its own, but it definitely tastes better with a little meat on the side. By extending grilling season, you're also extending beer season — and I would hope that we can all agree that there's absolutely nothing wrong with that.  Plus, the arrival of Fall means the arrival of seasonal beers.  Sure, Busch Beer gets the job done, but why not change things up and soak your bratwurst in a seasonal Oktoberfest instead.  Fall beers are typically darker and maltier, which can help bring a richer flavor to your usual grilling specialties.

4. It's Party Time
If you've been waiting for the right time to invite people over, now is the time to do it. The weather is cool and evenings are still long, making it the perfect season for backyard dinner parties. If the temperature drops a little more than you'd like, add a bonfire for warmth and entertainment. Nothing like a bit of over the fire cooking to remind you why grilling is such a perfect art! Cavemen may have discovered fire, but Grillaholics like you have perfected it's use.

5. The Perfect Fall Scent
As the weather gets cooler and people move indoors, the fall scents are put on display. And sure, falling leaves and apple pie are great, but nothing tops the smell of freshly cooked meat on the grill. While all of your summer grilling neighbors have put away their grills for the season, your dedication to the craft means you'll be the only one supplying the neighborhood with the delicious smell of smoke.  Fire up some freshly chopped wood tonight, and watch the neighbors turn green with envy.

6. Fall Flavors
If you like to mix things up in the kitchen, why not move the cooking outdoors? You can grill old favorites in the fall, but why not try more adventurous foods? Fall vegetables such as sweet potatoes and carrots taste great on the grill. You can even smoke a turkey breast for Thanksgiving if you're feeling feisty and want to impress the family. While your neighbors are sipping on their pumpkin spice lattes, you can be enjoying the TRUE flavors of fall.

7. Get Your Money's Worth
Grills are an investment, and father time makes sure that they won't last forever. Why spend hundreds of dollars on a beautiful grill if you're only going to use it three months out of the year?  Using your grill year round means getting way more bang for your buck, and as Grillaholics, we know that interests you. In fact, fall is one of the best times of year to stock up on grilling accessories! Everyone's grilling during the summer, meaning grilling tools are in high demand, and more expensive because of it.  The Average Joe's are giving up grilling for the year, leaving you, the true Grillaholics, with some of the best deals in grilling.
Everyone else may be putting their grills away for the year, but you know better. If the reasons above weren't enough to convince you, consider this: You won't taste grilled meat again till next year. That should be enough to persuade anyone. Till then, it's time to keep the grill burning.