Bloomin' Blue Burger
Posted by Madeleine Bequette on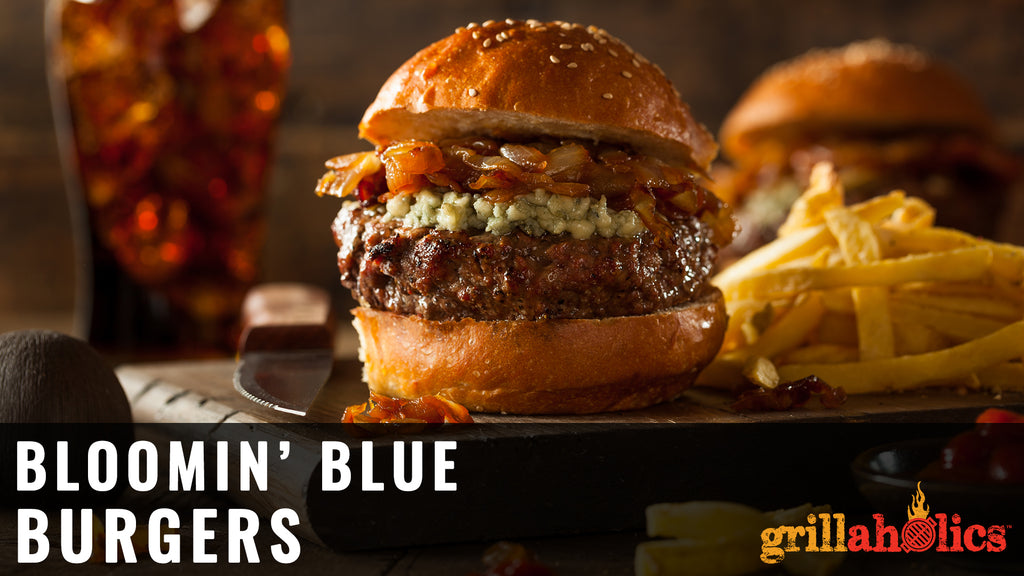 Serves: 3-4 People (or 2 Men or 1 Grillaholic)
Ingredients:
1 LB. Ground Beef
4 TBSP. Chipotle Mayonnaise
2 Cloves of Garlic, minced
1 Egg, beaten
4 TBSP. Olive Oil
1 Red Chili Pepper, deseeded & chopped
1/3 C. Blue Cheese Crumbles
2 Yellow Onions
Directions:
Mix ground beef with chili peppers and garlic. Season with Salt and Pepper (to taste), add beaten egg to meat mixture. Form into 4 burger patties and set aside.
Heat olive oil in deep frying pan and slowly fry onions until browned- stirring frequently to avoid burning.
It's time to heat the grill. Heat grill on high (if using gas) and if using charcoal, heat coals until they glow bright orange.
Grill Burgers until golden brown and slightly charred (about 3 minutes on both sides). Pro Tip: Try using Grillaholics Grill Mat to prevent flare-ups and keep your burgers from sticking to the grill.
Top burgers with Chipotle Mayonnaise, blue cheese crumbles and fried onion straws. *Serve Immediately
Mouth MEAT Burger.