How to Make THE BEST Honey Barbecue Sauce
Posted by Jake Eller on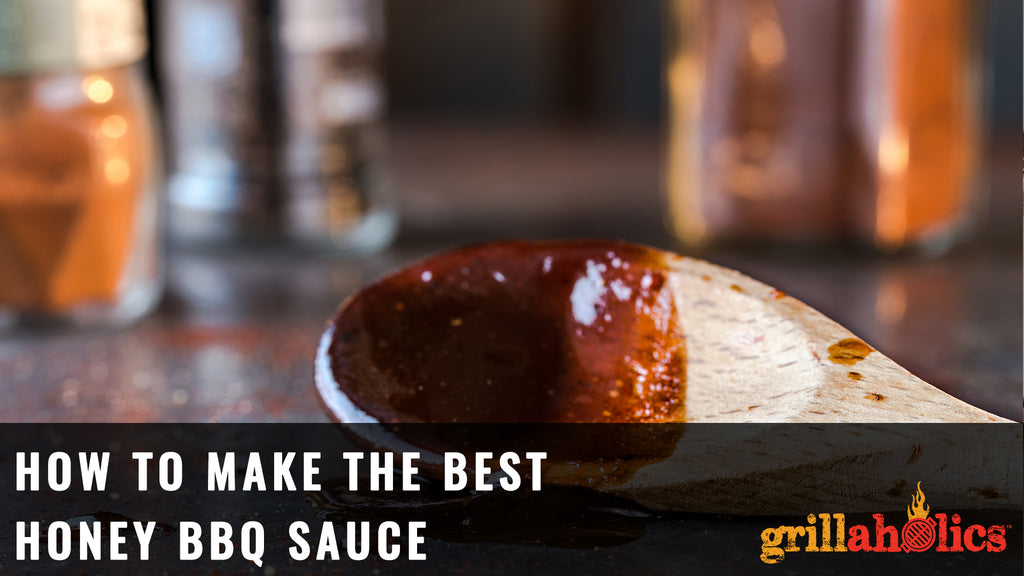 Going down the aisles at your local grocery store, there's no shortage of barbecue sauce options. But take a look at the labels a little more closely, and you might be scratching your head at some of the ingredients. Take a look at one popular brand of barbecue sauce's ingredient list:
High Fructose Corn Syrup, Water, Distilled vinegar, Tomato Puree (Water, tomato Paste), Salt, Modified Food Starch, Contains 2% or less of: Soybean Oil, Hydrolyzed Corn and Soy Protein, Spice, Onion Powder, Dehydrated Garlic, Artificial Tomato Flavor, Natural and Artificial Flavor, Colored with Yellow 6, Red 40, Blue 1
When you think of a great barbecue sauce, what components come to mind immediately? Surely not High Fructose Corn Syrup, or Yellow 6. So today, we're going to teach you how to use layers of flavor and real ingredients to create perhaps the best barbecue sauce you've ever had.
With homemade barbecue sauce, you can add just about anything you'd like. We've got a bit of a sweet tooth here, so we always look towards fruits or sugars to add in our barbecue sauce. These sweet flavors do well to cut through the intense, heavy flavor of barbecue. Specifically, today, we're going with honey. The floral sweetness of the honey plays perfectly with the rest of the components, and a degree of spice helps create a perfect symphony of flavors.
Ingredients:
1 1/2 cups honey
1 cup brown sugar
1/4 cup molasses
3 tablespoons ketchup
1/8 teaspoon ground cinnamon
1/8 teaspoon ground black pepper
1/4 teaspoon salt
1/4 teaspoon fresh, smashed, and minced garlic
2 tablespoons Worcestershire sauce
1 tablespoon dijon mustard
Although the ingredient list isn't particularly short, the technique here is wonderfully simple. Add all your ingredients into a large pot, cover with a lid, and let simmer for about 30 minutes. That's it! This low-and-slow simmer is going to give the flavors time to bloom and really shine in the finished product. Once it's finished, the barbecue sauce should keep in your fridge for about a month -- but we suspect it'll all be devoured by then!
With barbecue, a bright, sweet sauce can really sing in harmony with the smokey, intense flavor of your protein. Whether you're cooking a whole pig, or just a ribeye, we'd point towards our honey barbecue sauce as an absolute winner.
We'd also recommend this recipe as a base for any other ideas you might have. It's a well-rounded, sweet sauce that plays nicely with just about anything you'd want to incorporate. Substitute your star ingredient for the honey, and have a field day with it! Some of our favorite suggestions would be beer, pineapple juice, apple juice, or any kind of fruit puree. Take a look at what your grocer has to offer, and see if you can make a better, homemade version! Surely you won't miss the high fructose corn syrup, or yellow 5.