Try These 3 Killer Summer Tacos!
Posted by Jake Eller on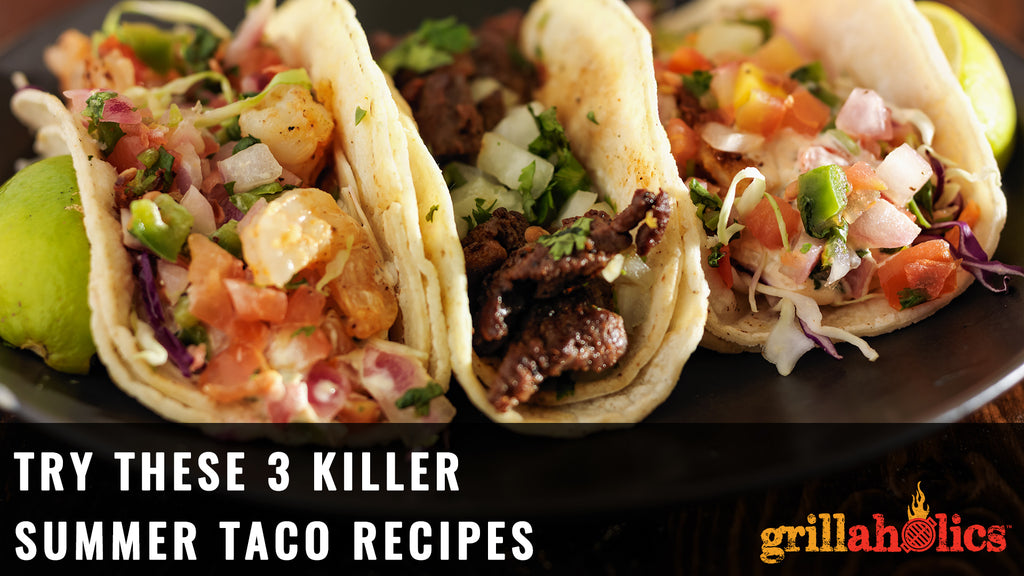 Summertime is rounding out. And (depending on when you're reading this), it may even be Taco Tuesday. At Grillaholics, we love the combination of smokey, charred protein with bright, fresh fruit. So today, we've put that love to work and come up with some great taco recipes. They're all winners in our book, and would all make for a great party.
Smoked Pork Shoulder and Pineapple Tacos
1 white onion, sliced
1/2 fresh pineapple, cut into small chunks
1 smoked pork shoulder, thinly sliced or shredded
8 corn tortillas, grilled briefly
1/2 cup roughly chopped fresh cilantro
1/2 teaspoon fine sea salt
1/4 teaspoon ground black pepper
Juice of one lime wedge
There's not much we need to say, here! Smoke your pork (we're sure you know how), and then mix all your salsa components in a bowl. Combine in a gently grilled/heated corn tortilla. Protip: a dab sour cream will help act as a glue, to hold everything together.
Shrimp and Watermelon Salsa Tacos
1.25 lb peeled, deveined, and grilled shrimp
Corn tortillas
3 cups watermelon, diced into ½-inch cubes
1 large red onion, diced
1 small bunch cilantro, chopped
2 whole limes, juiced
1 TBSP olive oil
This one is easy! Cut everything up for your salsa, mix it all together. The sweetness of the watermelon is going to play off the  smokey flavor from your grilled shrimp perfectly. As well, the lime juice in the salsa is really going to bring out the other flavors in the salsa. Protip for this one, though: the fresher it is, the better. We'd avoid making this the night before!
If you're feeling spicy, feel free to toss a diced jalapeno or habanero in there, too! As with the rest of our list, we'd suggest a slightly-warmed corn tortilla.
Cedar Planked Salmon with Grilled Mango Salsa
Cedar-planked salmon is one of our go-to methods of preparation. It's so simple, you don't even need a recipe! All it requires is a cedar plank (surprise), a nicely cut piece of salmon, and the typical oil/salt/pepper combination.
You'll want to keep your cedar plank in water, so the grill doesn't catch it on fire. Once it's nicely soaked, brush some oil onto one side of it, place your salmon flat-side-down, and season liberally with salt and pepper. That can go straight on the grill, over medium-low heat. The woodsy flavor from the plank will mix perfectly with the fresh-off-the-grill smokiness we love.
For the salsa:
2 mangoes, peeled and sliced
3 large tomatoes, sliced
1 red onion, sliced
1 jalapeño, halved and seeded
2 limes, halved
1 garlic clove, minced
1 cup roughly chopped cilantro
Pinch of cayenne pepper
Salt and freshly ground black pepper
Again -- pretty straightforward here. Make sure to grill your mango on a nice, hot grate, to achieve that dark, charred flavor! After it's been sliced and grilled, diced your mango into smaller pieces. From there, mix everything in a bowl, and you're good to go!