5 Steps To Prepare Your Grill For Spring
Posted by Madeleine Bequette on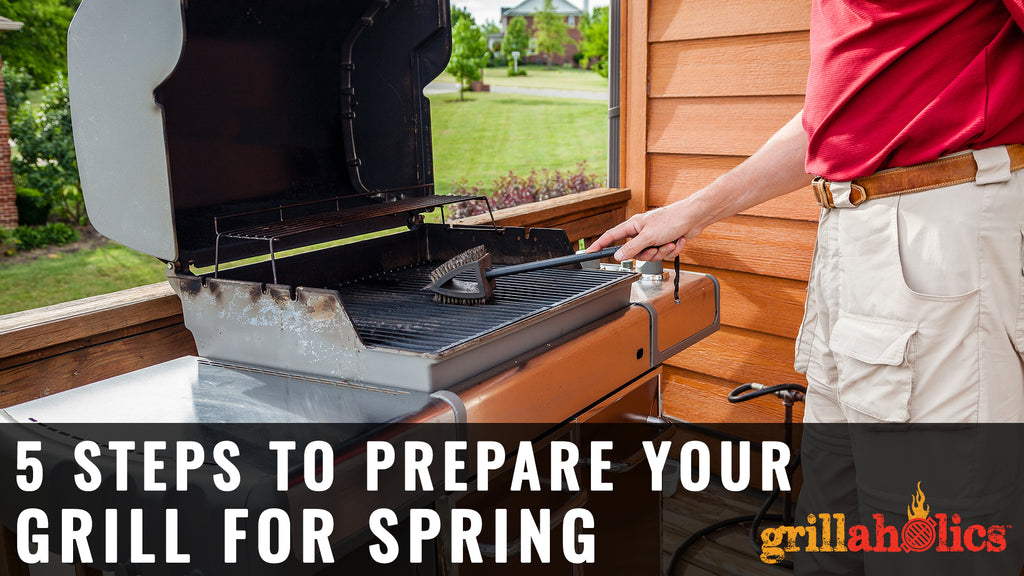 As the snow thaws and the patio beckons, follow these five steps to make sure your grill will be open for business. Starting the year off right means starting it with BBQ!
Step 1: Clean Your Grill
There are so many steps to cleaning a grill that we broke the process down into these 10 mini-steps.
Check for leaks. Put soapy water on hoses, tubes, the regulator and the valves. Turn on the propane tank and look for growing bubbles. Try tightening the connections. If the bubbles still stick around, you've got a gas leak. Replace anything bent or damaged. Then clean and reconnect the hoses and tubes.

Scrub it down with warm soapy water. Be sure to avoid oven cleaner, as it's corrosive and can damage different parts of the grill.

Disconnect the gas. If the gas jets are not removable, put tape over them to prevent blockage.

Take off the grates and clean them separately with a soft wire brush. Later, use the brush to remove debris from the body and lid.

Dump used briquettes, ash and grease. Clean the grease cup and replace it if needed.

Wipe down the burners, making sure nothing is rusted. Replace any worn-out burners or burner tubes.

Check the ignition pieces. If you need to, scrape off grease and residue with sandpaper.

Make sure the burners' wires are not chewed through. This is a sign of rodents making their home under the burners.

Also scrub grease stains off the exterior. If the outside of your grill is stainless steel, use a cleaner made for that material.

Do the tighten-up. Check the bottom of the grill to see if any squeaky wheels or hinges need lubrication (Check out this article for tips on cleaning all of your outdoor gadgets!). Fix the issues, tightening any loose screws or bolts.
Step 2: Rust-Proof It All
A safe way to get the rust off grates is to soak the grates overnight in a vinegar-salt or vinegar-water mixture. You can also use baking soda. Avoid commercial rust removers, as these can be toxic.
After you've cleaned and dried both sides of the grates, rub vegetable oil on them. Cure them by putting them in the oven at 450 degrees for a few hours. Avoid using a vegetable oil spray, as it's flammable.
If you have rust on the outside of the grill, consider painting it with rustproof metal paint. You can also get a grill cover to protect the entire device.
Another way to preserve your grill grates is to invest in a grill mat! These save time and are mess-free.
Step 3: Buy Fuel
There's nothing worse than getting ready for a full day of barbecuing and have NO fuel! 
Stock up on propane or charcoal, and make sure you keep it in a safe place, away from kids and pets. Propane tanks should be stored upright in a cool, shady spot. 
Step 4: Prep the Spot
Stock up on propane or charcoal, and make sure you keep it in a safe place, away from kids and pets. Propane tanks should be stored upright in a cool, shady spot.
Sweep out, hose down or power wash the grill's parking spot. Make sure there's nothing flammable there, like leaves, twigs or pet toys.
Step 5: Do a Test Run
Before grilling for a party, make a few items for yourself and your family. Use all the burners and any special accessories. Cook everything you think you'll make at a block party, from veggies to meats to fruit. If you're thinking about grilling a lot of vegetables, buy a grill basket, as sliced veggies can slip through grates (Click this link to check out our Grill Basket!).
Try out any recipes you're planning for a big event. Later, make any necessary changes to improve the grill's performance. If the burners are unbalanced, put charcoal bricks or lava rock around the burners to prevent hotspots (Check out this article about additional cleaning tips and tricks!).
These tips should keep you and your grill in tip-top shape for the spring. We wish you an amazing grilling season, from spring break until Memorial Day.