Keep Summer Going With These Island Grilling Vibes
Posted by Jake Eller on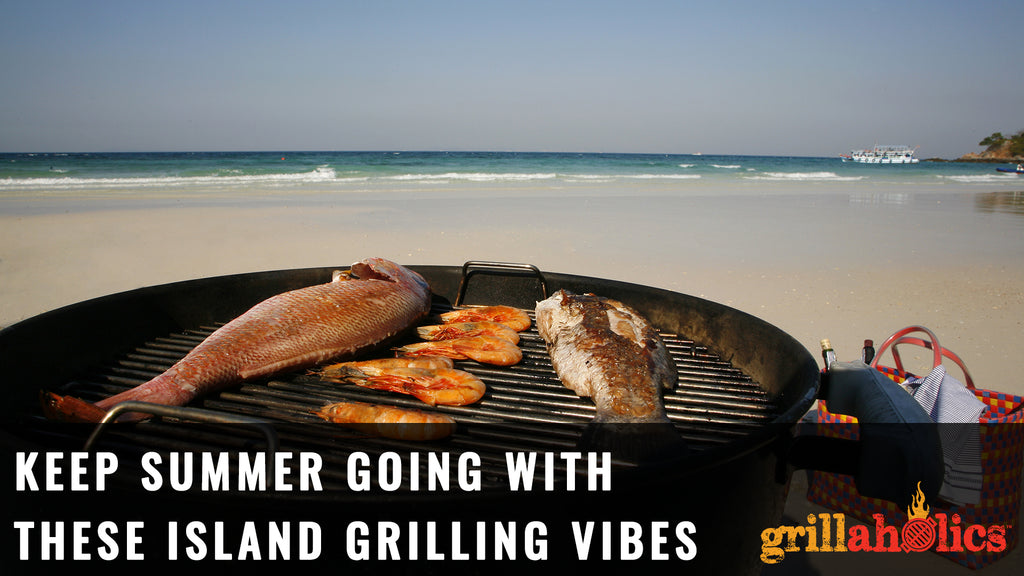 For most of us, summer is coming to a close (depending on when you're reading this).
As September approaches, the weather cools down, and the beach looks like less and less of an option. For the casual grilling sort of person, that might mean time to put away the grill altogether. But not for us, and probably not for you. We're Grillaholics for a reason, after all.
As the weather cools down, we don't stop grilling. In fact, we're here with a last-ditch, hail-mary effort to keep the summer vibes going. Tropical, island flavors are perfectly at home on the grill, so we've put together a few tips and tricks to keep the summer going (at least on your grill).
Turkey Tails
Although practically unheard of on the mainland, turkey tails are a staple of pacific islanders' get-togethers and feasts year-round. In fact, a 2007 statistic said that the average Samoan ate about 44 pounds of turkey tails each year. For some perspective, that's nearly triple the average American's annual turkey intake. The turkey tail is considered a festive sort of food in island communities, usually bringing together a group of people. Keep an eye out for this unique (and very cheap) cut of meat next time you're at the grocer! They're best when smoked for a few hours over low heat, so it'll give you another reason to keep the grill rocking as the weather gets cooler.
We'd give you a recipe, but you probably won't need one! Turkey tails are notoriously easy to cook, and notoriously difficult to mess up. We prefer them smoked over some nice, high-quality hickory. Be sure to throw a drip pan underneath the tails, or set them on a wire rack -- they're almost all fat, so you'll want to manage that. They shouldn't take more than a couple of hours over low heat to be beautifully hickory-colored and tender.
Protip: some nice, smoked turkey tails are a welcome addition to any Thanksgiving, in our experience.
Pineapple, Pineapple, Pineapple!
Grilled pineapple is one of the most versatile toppings you can make, believe it or not. Popular again amongst pacific island communities, pineapple doesn't just have to be used in sweets and desserts. We're always happy to see grilled pineapple on burgers, in salsas, or even as an accompaniment to a nice, grilled pork loin. The sweet tends to go very well with ultra-savory, grilled meats.
Grilling pineapple is one of the easiest things you can do on the grill, too. Just slice the pineapple as you like, liberally sprinkle some sugar and salt on the fruit, and throw it over medium-high heat. It will take 5-10 minutes for the sugars in the fruit to properly caramelize, so be patient! You don't just want grill marks -- you're also looking for some golden, dark-brown color on the flesh of the fruit.
It's in the Sauce!
Look, we know there are differing opinions here. Some ultra, ultra-traditional pitmasters would rather die than put sauce on their smoked meats. The argument here is that properly-cooked meat shouldn't need the addition of a sauce. While that's all well-and-good, an incredible, well-made sauce can be exactly what your barbecue might be screaming for. There are definitely some good bottled options, but to do something really original, we point towards a homemade method.
A great barbecue sauce is sweet, spicy, and tangy without tasting like a mess. The ingredients need to sing in harmony -- which can be easier said than done. For our barbecue sauce today, we're sticking to the Pacific. This contemporary, island-style twist on traditional barbecue sauce is sure to be a hit.

Before we get started though, here's one hill this writer will gladly die on: DO NOT USE FROZEN FRUIT. It's mostly flavorless, not nearly as sweet as it should be, and lacks the fresh, bright quality that a whole pineapple will have. Now, that said...
Ingredients
1 C water
6 oz can tomato paste
OR -- if you're really going all-in, we'd suggest smoking a half dozen tomatoes and making your own puree.
1 heaping cup grilled pineapple chunks, FRESH
4 tbsp molasses
2 tbsp apple cider vinegar
1 tbsp garlic powder
2 tsp Himalayan pink salt
1/8 tsp cayenne pepper
It's very important to grill the pineapple before using it in this sauce, especially if you're going with store-bought tomato paste. The grilled pineapple is going to bring a smokey character to the sauce that you absolutely won't want to miss.
Aside from that, this is a damn easy recipe to make. Put all your ingredients in a pot, simmer for about 45 minutes, and blend! Simmering these ingredients before pureeing is going to really open up all the flavors, and make a much more robust, intense sauce.
Jerk!
We've talked briefly about Jamaican cooking before 
https://www.grillaholics.com/blogs/technique/jamaican-jerk-101
), and it remains one of our favorite methods of cookery to date. Unfortunately, ultra-traditional jerk cooking is not ultra-convenient -- the grills are often several feet long by several feet wide, and are specially made for jerk cooking exclusively. That being said, by making a Jerk rub or spice blend, we can do pretty well to bring some island vibes to the barbecue in late summer.
Now, we know there are quite a few ingredients here, but trust us -- it's going to be worth the effort.
Ingredients
1 tablespoon garlic powder
3 teaspoons cayenne pepper
2 teaspoons onion powder
2 teaspoons dried thyme
2 teaspoons dried parsley
2 teaspoons demerara
2 teaspoons salt
1 teaspoon paprika
1 teaspoon ground allspice
1/2 teaspoon black pepper 
Just mix all of these together, and use it as a spice rub on just about anything!
If you want an even more authentic Jamaican experience, try to find some nice goat meat to roast or smoke. It's a traditional Caribbean source of protein, and one that is pleasantly just gamey enough that it won't be offputting to the 'normies' in your life.
There you have it! Summer may be drawing to an end, but that doesn't mean the grilling . has to stop. In fact, with these tips, you should be able to get on last big hurrah in and celebrate the end of summer instead of dreading the cold weather to come.
As always, Happy Grilling!