New Year's Resolutions For Grillaholics
Posted by Josh Gilmore on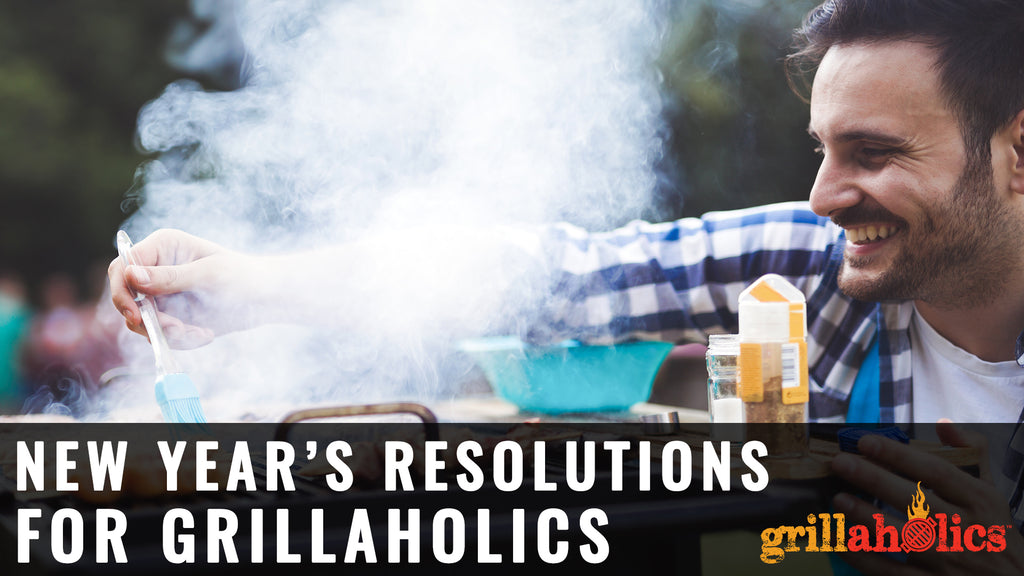 Calling Grillaholics everywhere! It's time to start thinking about your New Year's resolutions. Yeah, yeah, everyone knows that resolutions are hard to keep. The truth is that most resolutions are forgotten by the time January comes to a close. 
This year, instead of making those unrealistic resolutions that you probably never intend to keep, how about making some that are designed just for you - the Grillaholic. Here's a look at the most popular New Year's resolutions, tweaked just a little to match the Grillaholic's lifestyle.
Exercise More Often
Exercising more often doesn't mean you have to go out and join the gym. At least, not when you're a Grillaholic. After all, a lot of work goes into grilling. Just think about how many times you lift that heavy grill hood, flip the burgers, and carry plates of meat back and forth from the grill. For the Grillaholic, getting more exercise doesn't mean spending more time on the treadmill - it means grilling more often - and who doesn't want to do that?
Eat Healthier
This year, why not make the choice to become a vegan? Just kidding. While it's not impossible to be a vegan and a Grillaholic, it's likely this lifestyle will never be on your list of New Year's resolutions. Instead of cutting meat products out of your diet, why not make a resolution to expand your meat choices. Make a vow to be adventurous in the New Year. Try grilling some exotic meats, such as bison, emu, kangaroo, elk and wild boar this upcoming year, and expand your horizons. If you do it right, you can actually lose weight while eating barbecue!
Save Money by Spending Less
Everyone is always looking for great ways to save money, and your grill can help you do just that. Next time your partner suggest going out for dinner, open up the grill instead. You probably have a freezer full of meat options, and let's face it, no one grills it better than you do. So, instead of spending your hard-earned money to have someone else make you a subpar meal, save your money and choose to stay home and grill instead.
Get Organized
Don't panic! For the Grillaholic, getting organized has nothing to do with a "honey-do list" from your partner. This year, instead of spending your time on renovation projects inside your home, make a resolution to design the outdoor grill space of your dreams. This may mean upgrading your grill, buying some awesome grilling accessories, expanding the patio or considering many other renovation projects. Have fun with it and make it your own.
Spend More Time with Friends and Family
For the Grillaholic, the idea of spending more time with friends and family is perfect. After all, it means more grilling and sharing your talents with those who mean the most. Don't let any special holiday (like Memorial Day, Labor Day and of course the Fourth of July) pass by this year without planning a special get-together at your house, complete with your best grilling dishes.
Read More
Many people make a resolution to read more books in the New Year. Just a few years ago, Facebook's own Mark Zuckerberg made a New Year's resolution to read one book every two weeks. You can join right along with this frenzy, by vowing to read a new book - a new grilling recipe book that is - every two weeks. Just think about how many great, new recipes you will have by the end of the year.
See, New Year's resolutions don't have to be difficult or boring. You just have to pick the resolutions that are right for you. So, pick a couple of these ideal Grillaholic resolutions and enjoy grilling all year long.