Top 5 Reasons To Grill In The Winter
Posted by Josh Gilmore on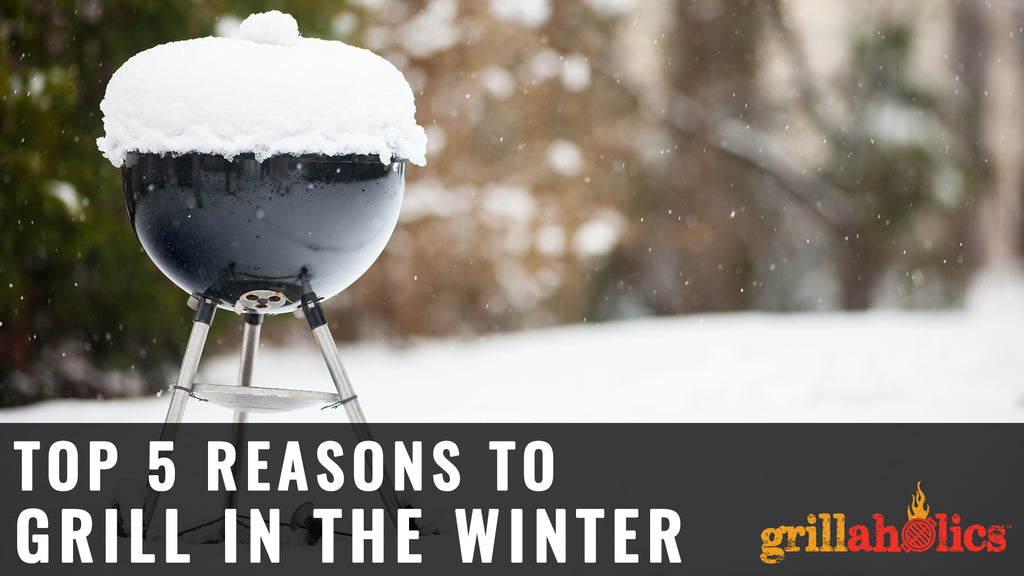 As the skies begin to darken earlier and the mercury starts to drop, a gray blanket of sadness begins to envelop a certain type of individual. No, it is not those affected by Seasonal Affective Disorder (SAD), but rather those who experience Grilling Loss Affective Disorder (GLAD). The irony is that those affected by GLAD are anything but, as covering the grill over for the final time and putting away their grilling tools is akin to saying goodbye forever to an old friend.
Indeed, if you are one of the many who laments the colder weather and the end of grilling season, you know all too well the heaviness of heart that strikes when GLAD takes hold. 
But wait a minute—just who is it that decided that the grill must hibernate during the winter? Who said that the winter smells of baking apple pies, hearty stews and a turkey roasting in the oven can't also be joined by the sounds and smells of sizzling burgers over an open flame?
There really doesn't seem to be any official ruling on the practice of grilling during the winter, so rejoice, you sufferers of GLAD— the next time someone questions your preference for winter grilling, simply let them know the following reasons why some falling snow and chilly temps are no reason not to man your station with grill fork and spatula in hand.
Because It Just Tastes Better
Who can deny the flavor of a grilled burger or a succulent steak, or the slight char on chicken and vegetable kebabs? Why should you deny yourself and your taste buds the tasty perfection only a grill can provide? Sure, other family members might question your insistence on using a grill in lieu of a cast iron skillet or the oven broiler, but once they sink their teeth into a juicy grilled New York Strip steak, the questions will surely cease.
Grilling and Braving the Elements Go Hand in Hand
Grilling food over an open flame and defying the weather are two activities that enable us to reach back into our primal core. Grab a shovel and scrape away that snow and ice, leaving a clear path to the grill, where chilly temperatures and falling flakes won't stop you from delivering up a plate full of barbecued awesomeness.
Grilled Food Makes People Happy 
It's not just a theory—consider the joy and camaraderie everyone feels in the summer when they're gathered around the grill, patiently anticipating the plate of food soon to be delivered to their waiting hands. The smiles on their faces when they take their first bites says it all—you owe it to yourself and your family to keep those smiles bright and those tummies full throughout the winter.
Take Comfort Food to the Next Level
Winter is a time for comfort foods, and the grill can certainly provide plenty of it. From pot pies and grilled potatoes, pulled pork or smoked brisket, succulent ribs and a mouth-watering cheeseburger, there's plenty of heartwarming and stomach-filling comfort food a grill can provide.
It Gets the Family Outside
It can be too easy to succumb to the comfort of the couch in the winter. Grilling helps get everyone outside. Sure you may have to bundle up a little in the very cold months, but standing by the flame of the grill will help you quickly warm up, and there's plenty of fun to be had in the snow while waiting for the food!