Bacon Wrapped "BOMB" Dogs
Posted by Jake Eller on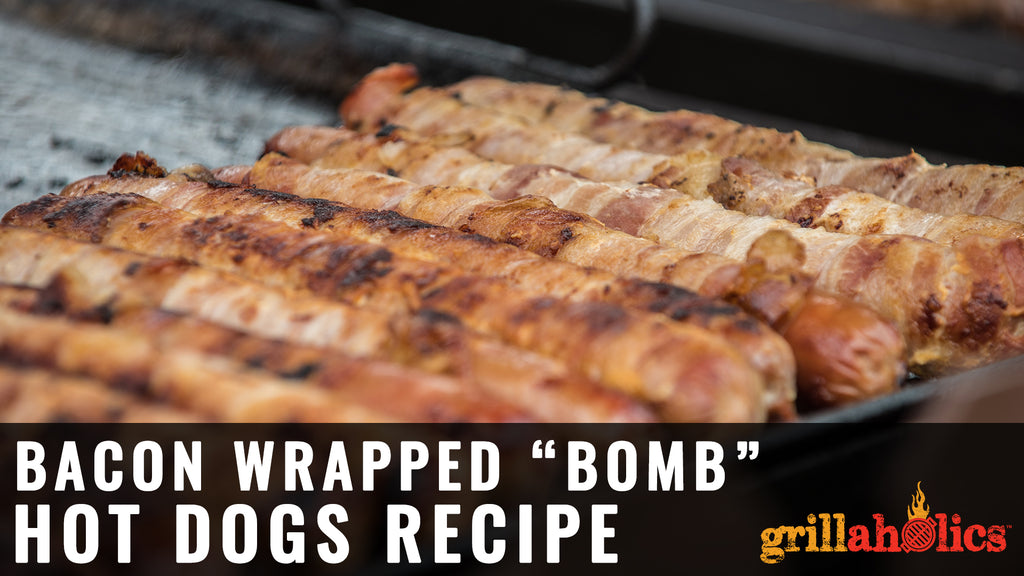 Hey Grillaholics,
Tailgating season is quickly approaching, and I for one, can't wait to gather 'round with my buddies, beer in hand while I bust out the grill before the game.

Now, you could go all fancy and bust out some ribeyes and bourbon glazes, but when I'm tailgating, I like to keep it simple.

Now simple, mind you, doesn't mean dull, bland or tasteless - In fact, the recipe I'm about to share with you has become a staple at our tailgating outings. So much so that my buddies requesting these dogs every single time - so I always come prepared.

So without any further adieu, let me show you how something as simple as a hot dog can be elevated to become YOUR game time go-to.


Ingredients:

1 Package All Beef Hot Dogs

1 lb. Bacon
1/2 lb. Coleslaw
Your favorite BBQ Sauce
7oz. Bleu Cheese
Hot Dog Buns
Bacon Makes Everything Better
We're gonna start my wrapping our hot dogs in bacon. To get the bacon to stay in place, I've found that fastening it down with a toothpick on either side works best.

Pre Heat Your Grill
For grilling dogs, around 350F should work. If using charcoal, we're going to build the fire on one side, and cook on the other. If gas, just keep one side of the flames unlit. These work best when grilled indirectly.

Alternatively, these cook up perfectly on a griddle if that's your tool of choice.

Dress Your Dogs
Now, you could just let everyone choose their own toppings, but then they wouldn't be "BOMB" dogs. (We call them "bomb" dogs because of how filling they are - 1-2 of these things could be all you need to be game-ready!).

The first step is going to be coleslaw. You can either make some at home. ot pick up your favorite from the store.

Next, crumble up some bleu cheese, and sprinkle it on top.

Lastly, drizzle with some of your favorite BBQ sauce.

Wanna Kick It Up A Notch?
If you're looking for a spicy kick, sometimes I'll add some fresh diced jalapeños as well, but that's totally up to you.

There you have it!

A super simple, but extremely flavorful tailgating recipe that is sure to please.

What Do You Like to Cook When Tailgating?
Tell us in the comments! We'd love to know and are always looking for new, exciting recipes. Who knows - Maybe we'll even publish your recipe as a feature in an upcoming blog post!

As always, Happy Grilling!