Brown Sugar, Bacon & Bourbon Baked Beans
Posted by Jake Eller on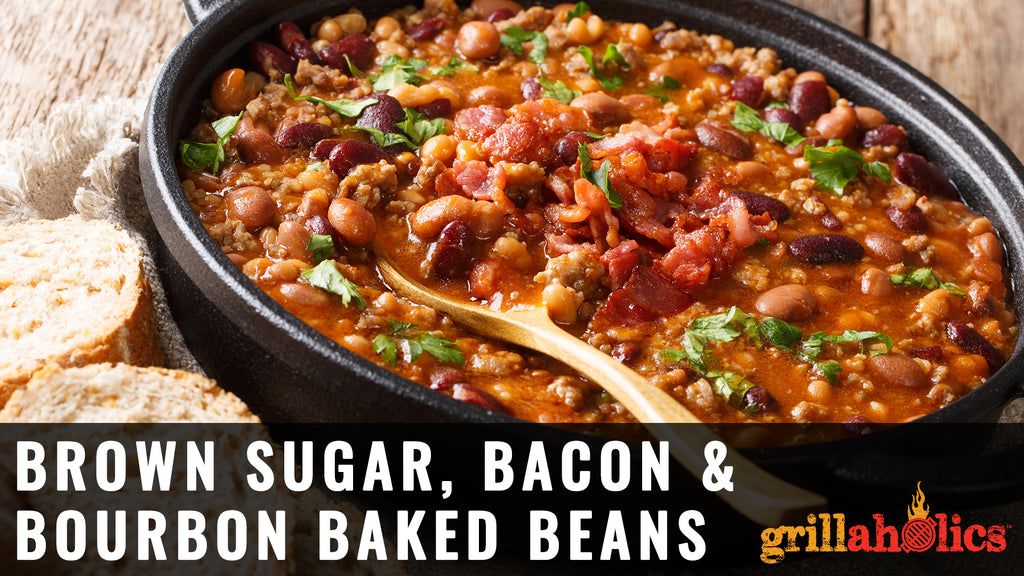 When you think of BBQ sides, one dish that surely comes top of mind is baked beans.
The sweet, savory flavor of baked beans has become a BBQ staple at almost every backyard bbq, right beside cole slaw and potato salad - But most people just opt for the easier canned version, which, while delicious, lacks the depth of flavor you'll find in a batch of homemade baked beans.
But forget the store-bought version - With this recipe, you'll be making your own baked beans, flavored with
 brown sugar, bourbon, bacon & molasses in no time!

Let's get started!

Disclosure: We use a slow cooker for this recipe, but you could ju

Ingredients:

1 lb. bacon cut into 1" pieces (Or you can use THICK chunks by making your own bacon at home!)
1 Medium yellow onion finely diced
5 Cups Cooked Navy Beans
1 Cup Cooked Black Beans
5 Cloves Garlic minced
1 Cup Bourbon
1 Cup Ketchup
1/2 Cup Brown Sugar (packed)
1/3 Cup Mollasses
2 Tablespoons Apple Cider Vinegar
1/2 Cup Beef Broth
Salt & Pepper (as needed)
Directions:


Heat a large cast iron pan over medium-high heat* and add some oil & chopped bacon. Cook for 4-5 minutes, stirring occasionally. Add in the onion and garlic and cook until onions and garlic are soft & bacon is browned (about 4-5 minutes)

Add in the remaining ingredients, and mix well to ensure everything is well combined. Season with salt and pepper to taste. Bring everything to a simmer and cover with a tight fitting lid.

Transfer your cast iron pan to a preheated 300 degree F oven (or grill!). Bake for 45 minutes, stirring once halfway through cooking. Remove the lid, stir, and continue to bake until the sauce is thickened and sticky, about an additional 30-45 minutes. If needed during baking, add more water or broth to get the perfect consistency.

Taste beans and adjust for salt and pepper to taste. Top with more crumbled bacon.
And there you have it! Make these at your next BBQ and people will be sure to be asking for the recipe.

As always: Happy Grilling!