Bacon Wrapped Smoked Armadillo Eggs
Posted by Jake Eller on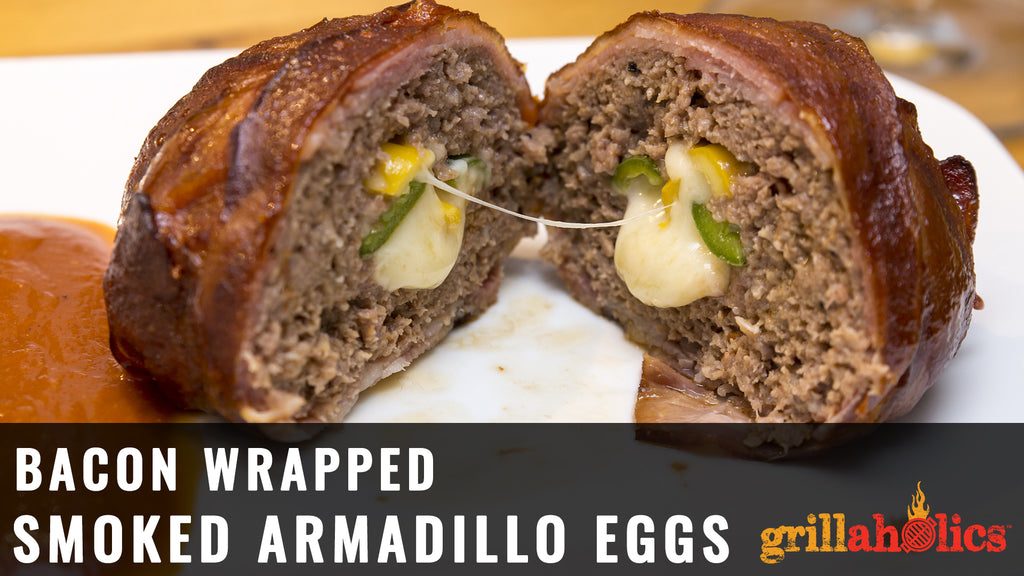 Hey there Grillaholics!
Armadillio eggs are a classic Texas Barbecue staple, and today, we're going to show you how to make them!

But first, you may have a question about what exactly an Armadillo Egg is. Ever had a Scotch Egg? Kinda like that, but... kinda NOTHING like that. See, your classic Armadillo Eggs is made without an actual egg, instead - there's a jalapeno.
I guess you could think of Armadillo Eggs as your classic grilled jalapeno popper on steroids. A sort of jalapeno popper-meatball mashup that is wrapped in bacon, and then smoked or grilled over indirect heat.

Today we're going to teach you how to make the Grillaholics rendition of an Armadillo egg that includes a cream cheese and cheddar cheese mixture, chorizo in place of standard sausage, wrapping it in bacon (because... well, bacon!), and basting the Armadillo egg in barbecue sauce throughout the cooking process because we've found that doing so adds a TON of extra depth of flavor.

Let's get started!

What You'll Need (Ingredients)
1

 

pound

 Chorizo

 Sausage

12

 

slices

 

bacon

6

 

jalapenos

 

stems, core, and seeds removed

4

 

oz

 

cream cheese

 

softened

4

 

oz

 

cheddar cheese

 

shredded

1

 

cup

 homemade honey bbq sauce
A Few Things to Note:
While we will be smoking our Armadillo eggs, you could just as easily grill them over indirect heat. But, in our case, we like to smoke them using apple wood over a temperature of about 250 degrees. This will allow time for the smoky goodness to fully penetrate the Armadillo egg, and for the heat to cook the jalapeno nestled inside. 
If you don't have a smoker, fret not! You can just as easily use a smoker box that works great for gas grills!


Fire Up the Smoker (or grill) and Let's Get Started!
1. Preheat your smoker to 250 degrees F. We use Apple wood, but you have creative license here - any other smoking hardwood would work just as well (hickory, oak, maple, etc.)
2. In a mixing bowl, combine the cream cheese, cheddar cheese, and season with salt & pepper (if you're feeling extra fancy, you could also use a sweet bbq rub!).
3. Spoon some of the cream cheese mixture into each of the cored and seeded jalapenos. Use the back of the spoon to press the filling all of the way into the jalapeno.
4. Wrap each jalapeno with 1/6th of the Chorizo sausage. Working with your hands, make sure the sausage is covering the entire jalapeno, then roll into the shape of an egg.
5. Wrap each sausage covered jalapeno with bacon. It will likely take two pieces per armadillo egg. If you're having trouble getting the bacon to stay, you can secure the slices with toothpicks, if needed. They should look something like the following once finished:
6. Place the bacon wrapped armadillo eggs in the smoker, or if you're grilling, over indirect heat. Close the lid and smoke until the internal temperature reads 165 degrees F. This usually takes around 2 hours, depending on the size of your armadillo eggs.
7. The Secret: Brush your armadillo eggs with homemade honey BBQ sauce throughout the cooking process. This will add more depth of flavor to your Armadillo Eggs. One issue we've found is that doing this step can create a less crispy bacon, so if you want crispier bacon, you will need to finish the Armadillo Eggs over indirect grilling at about 400 degrees for 10 minutes or so. When finished cooking, your Armadillo eggs should have a deep brown, reddish color and look like these here:
8. Serve hot and enjoy! And as always Happy Grilling!