Beer Braised Pork Butt
Posted by Madeleine Bequette on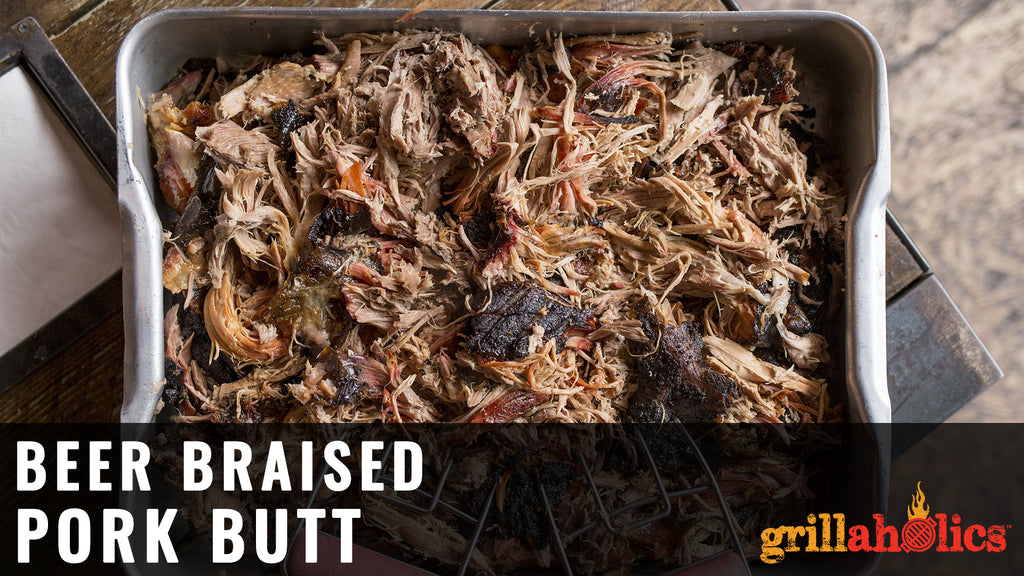 Ingredients
For the dry rub:
2- tablespoons salt
About 40 grinds black pepper
2- tablespoons chili powder
1- tablespoon garlic powder
2- teaspoons ground coriander
2- teaspoons ground mustard seed
12- ounces good ale or dark beer, such as Bass
4- cloves garlic, chopped
1- 5 lb pork butt (shoulder of the animal)
Directions
Combine rub ingredients in a bowl and mix well. Rub all over pork butt. Wrap in plastic wrap and refrigerate for at least one hour and as long as overnight.
Preheat oven to 500 degrees F. Unwrap pork and place in a roasting pan with sides about 2 inches high. Cook 45 minutes until dark browned and even blackening in places. Remove from oven. Lower oven to 325 degrees F. Pour beer over the top and add chopped garlic around the pork. Cover tightly with heavy duty aluminum foil or twice with regular foil. Poke about 10 holes all over the top of the foil. Cook pork butt 2 1/2 hours longer until so tender that it comes away very easily from center bone. Place the meat on a plate and pour the pan juice (there will be plenty) into a saucepan. To the pan juices add:

1/2 cup ketchup
2 tablespoons whole grain Dijon mustard
3 tablespoons Worchestershire sauce
1/3 cup dark brown sugar
Bring to a simmer until reduced by half and thick, about 20 minutes.

While the sauce is boiling down, pull apart the pork with 2 forks. Pour the sauce over the pulled pork and work through until fully absorbed.
Recipe courtesy of Dave Lieberman
Grill Responsibly! Check out our Pinterest Page and our other other blog posts to find more delicious recipes!