Grilled Ratatouille
Posted by Jake Eller on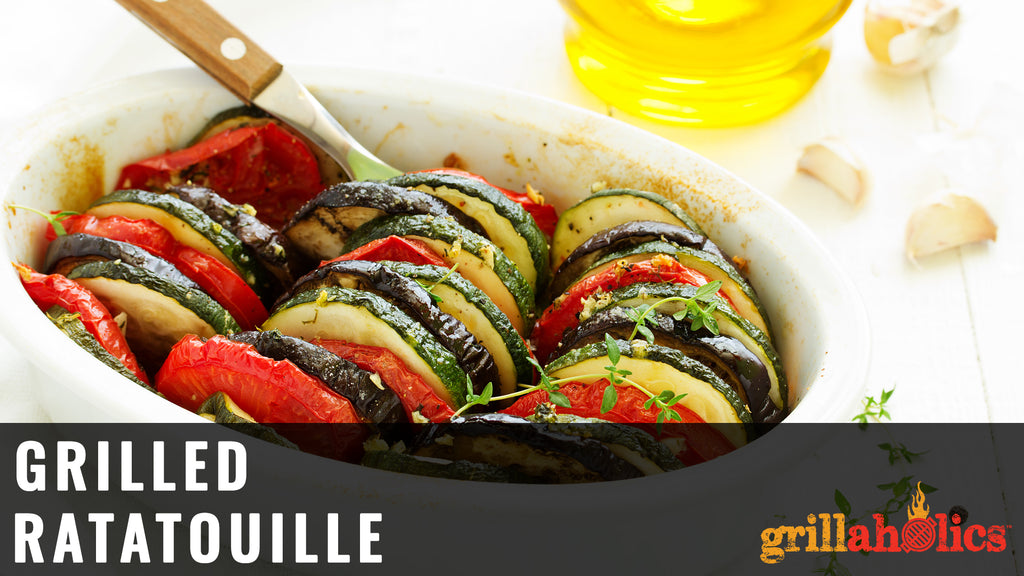 Level: Intermediate

Total: 40 minutes

Prep: 30 minutes

Cook: 10 minutes

Serves: 4 to 6
Ingredients
2 zucchini, cut into ¼" thick slices
2 yellow squash, cut into ¼" thick slices
2 eggplant, cut into ¼" thick slices
3 red and/or orange bell peppers, seeded and cut into roughly 3" squares
3 yellow bell peppers, seeded and cut into roughly 3" squares
3 small vidalia onions, skinned, and cut into 1/4" thick slices
4 small tomatoes, cut into ¼" thick slices
8 mushrooms, cut into ¼" thick slices
1/2 cup olive oil, plus extra for dressing
Salt and Pepper
8 cloves garlic, minced
2 tablespoons finely chopped fresh thyme
Lemon for garnish
Directions:
Preheat grill to medium-high.

Place all cut vegetables in a large bowl. Add the 1/2 cup of olive oil, salt & pepper, and toss to coat.

Working in individual batches (each veggie type grilled independently), place the vegetables in a grill basket, transfer to the grill and cook for 5 to 6 minutes each, turning halfway through the cooking time to ensure even grilling.

Once grilled, place your grilled vegetables into small individual ceramic baking dishes (preferably layered and alternating veggie types), drizzle with the remaining olive oil, garlic, and thyme, season with salt and pepper to taste. If preferred, spritz with lemon.

Serve and enjoy.