Pepper Jack Stuffed Doritos Burger
Posted by Madeleine Bequette on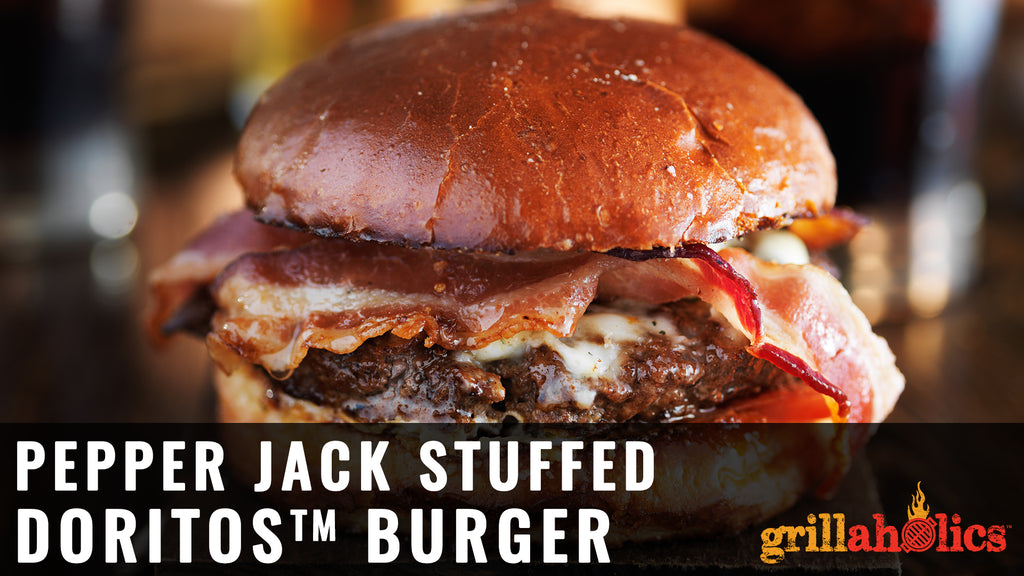 Serves: 5 hamburger patties
A mixture of the 3 greatest ingredients ever… doritos, cheese and BURGERS, you're welcome.
Ingredients
¾ cup of finely crushed Nacho Cheese Doritos (about 2 cups of chips)
1⅓ lb ground beef- 85% lean or less
1 egg
¾ cup shredded pepper jack cheese
Salt and pepper
Buns and burger toppings of your choice
Bacon (Optional, but encouraged)
Instructions
Combine crushed chips with the meat and egg. Mix until all ingredients are well incorporated, but don't over mix the meat.
Press about 5/8 of your burger meat into your stuffed burger press. Remove the larger cup from the top of the press, make a cavity to add your fillings. Place 2 tbsp of the cheese the indentation.
Flatten the remainder of the meat and place it on top of the fillings. Add the larger cup back to the press and seal your burger. You can add salt and pepper to each side of the burger!
Cook over medium high heat on a griddle or grill, about 6 minutes per side for well done. Grill this on our grill mat to get better results!
Serve with whatever toppings (*cough, cough* bacon) you love and pair it with a delicious beer!
Satisfy your tastebuds!