Shredded Carnitas Tacos
Posted by Madeleine Bequette on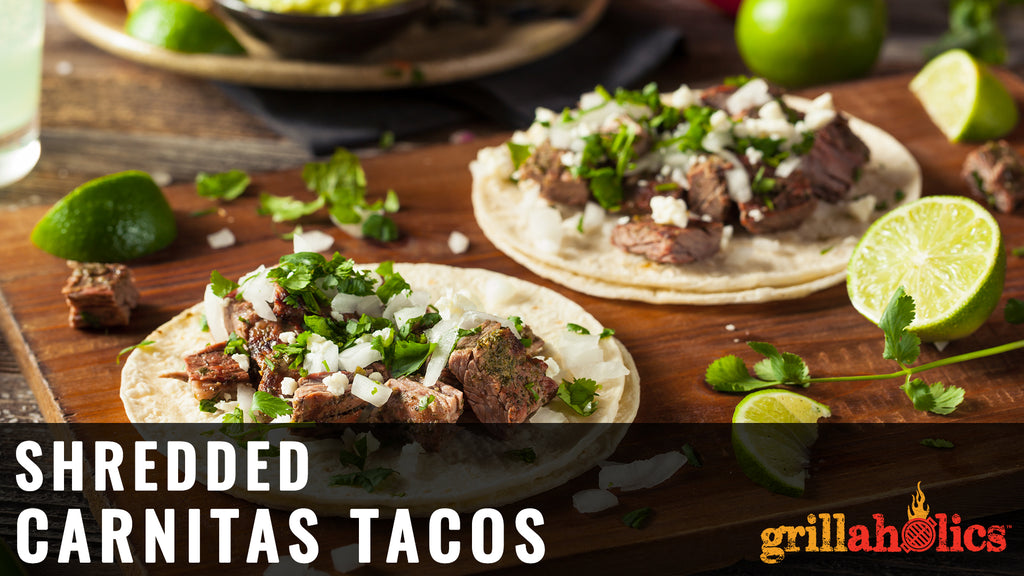 Serves: 4-6 people
Ingredients:
1 (2 lb.) Shoulder Cut Pork
3-4 C. Smoking Wood Chips
1 White Onion, diced
1/4 C. Fresh Cilantro, chopped
1 Pack Soft Corn Tortillas
1 Lime
(Dry Rub)
1/4 C. Brown Sugar
1/4 C. Paprika
1 Tbsp. Sea Salt
1 Tbsp. Black Pepper
3 Tsp. Cumin
2 Tsp. Onion Powder
2 Tsp. Garlic Powder
2 Tsp. Sage
2 Tsp. Thyme Powder
Cook: 2-3 hours
Ready in: 2.5-3.5 hours
Directions:
Mix all dry rub ingredients and massage your meat, generously, front and back.  (That IS what she said.)  **For the most tender pork, apply rub, cover with plastic wrap and refrigerate for 24 hours.
Soak wood chips 20-30 minutes before starting your fire. Drain and place them directly on hot coals once smoker has reached 225-235 F (107-113 C).
Place pork shoulder directly on the grill grates in the center. Close the grill lid.  (Remember to place your oven thermometer on the grill to help regulate temperature.)
After about 20 mins, check the roast to make sure temperatures are holding. (After the first time, check periodically).
Pork is done cooking when the meat thermometer is pierced through the thickest part of the meat and reads 190F/88C (typically 2-3 hours).
Remove from the grill and let stand for 20-25 minutes before shredding. Pro Tip: Try using Grillaholics Meat Claws to make shredding stupid simple.
With fire still burning, toss your corn tortillas directly on the grill just enough for grill marks to show on each side.
Place desired amount of shredded pork inside tortilla and top with onion, cilantro and lime to garnish. Enjoy shredded carnitas tacos – a little taste of Mexico!