Bacon Cheeseburger Cupcake
Posted by Madeleine Bequette on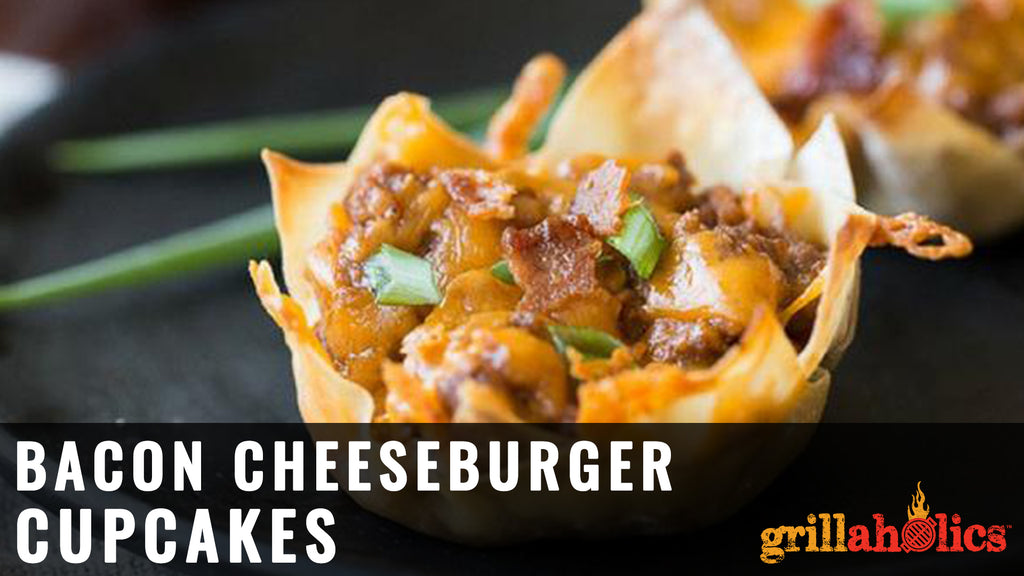 A cupcake for MEN……a beefy, cheesy, bacon filled treat perfect for the BIG GAME!
INGREDIENTS
1 package wonton wrappers (about 2.5-3 inches across)
1 pound lean ground beef
4 slices bacon, diced and cooked until crisp
½ cup ketchup
½ cup barbecue sauce
3 cups cheese, divided (whatever you like on your burgers!)
Optional toppings: shredded lettuce, pickles, mustard, mayo, tomatoes.
INSTRUCTIONS
Preheat the oven to 400 degrees F.
In a medium pan, cook ground beef over medium-high heat until browned.
Remove from heat and stir in bacon, ketchup and barbecue sauce. Stir in 1 cup cheese.
Spray 2 muffin pans with nonstick spray. Place one wonton wrapper in the bottom of each muffin cup. Place another wonton wrapper on top, turning so that the long edges are staggered (so that your muffin cup is lined completely by the wonton wrappers). Place about 1-2 tablespoons of beef mixture into each wonton cup. You should fill 18-24 wontons with beef mixture, depending on how full you fill them.
Sprinkle with remaining cheese and bake for 12-15 minutes until cheese is bubbly and edges of the wonton are crispy and golden brown. Let sit at least 5 minutes before serving (they're very hot inside!). Feel free to garnish with your favorite burger toppings!
Source: ( www.thereciperebel.com )