Bacon Wrapped Chicken Wings W/ Bourbon Barbecue Sauce
Posted by Josh Gilmore on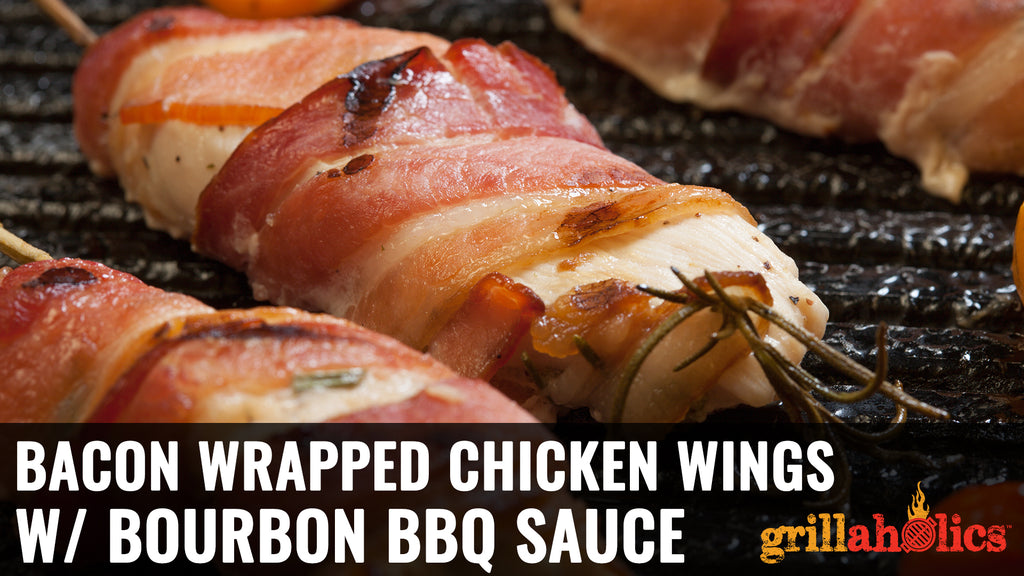 Grillaholics, let's be completely honest with ourselves for a second.  There are many universal truths in the world of grilling that all true Grillaholics know, but perhaps none are as important as this: EVERYTHING is better with bacon.  We have already shown you epic recipes for bacon wrapped meatballs and bacon wrapped jalapeños, but we think today's recipe may be one of the greatest yet.
Bacon Wrapped Chicken Wings Tossed In Bourbon Barbecue Sauce
Ingredients
Chicken
3lbs of chicken wings (wingettes and drummettes both work)

¼ teaspoon of cracked pepper

12 slices of bacon, sliced crosswise
Bourbon Barbecue Sauce
½ cup ketchup

½ cup bourbon

¼ cup packed brown sugar

2 tablespoons soy sauce

3 cloves garlic, finely chopped

1 teaspoon Dijon mustard

½ teaspoon red pepper flakes
Directions
Season chicken wings with pepper. Wrap each chicken wing tightly with a half a slice of bacon.

Bring grill to about 350 degrees and place bacon wrapped chicken wings on the grill indirectly (either on a grill mat or tinfoil).  Grill until the bacon becomes brown and crispy.  The chicken wings should reach an internal temperature of 165 degrees. (Grilling times will vary from grill to grill, but typically fall between 40 and 50 minutes)

While the bacon wrapped chicken wings are cooking, mix all of the Barbecue Bourbon Sauce ingredients together in a medium saucepan.  Heat to simmering on medium heat, stirring constantly, for about 5 minutes or until all sugar is dissolved.  Remove from heat and set aside.

In a large bowl, toss chicken wings in about half of the Barbecue Bourbon Sauce (you can use more or less sauce here, depending on your preference).  Serve warm with leftover sauce on the side for dipping.
We have tried these ourselves and can say that they are 100% Grillaholics approved.  Let us know what you think of this recipe, and if you make it yourself, we'd love to see it on our Facebook page!
Huge thanks to Betty Crocker for inspiring us with their original recipe.  Check out their baked version here!