Tin Foil Southwest Chicken
Posted by Madeleine Bequette on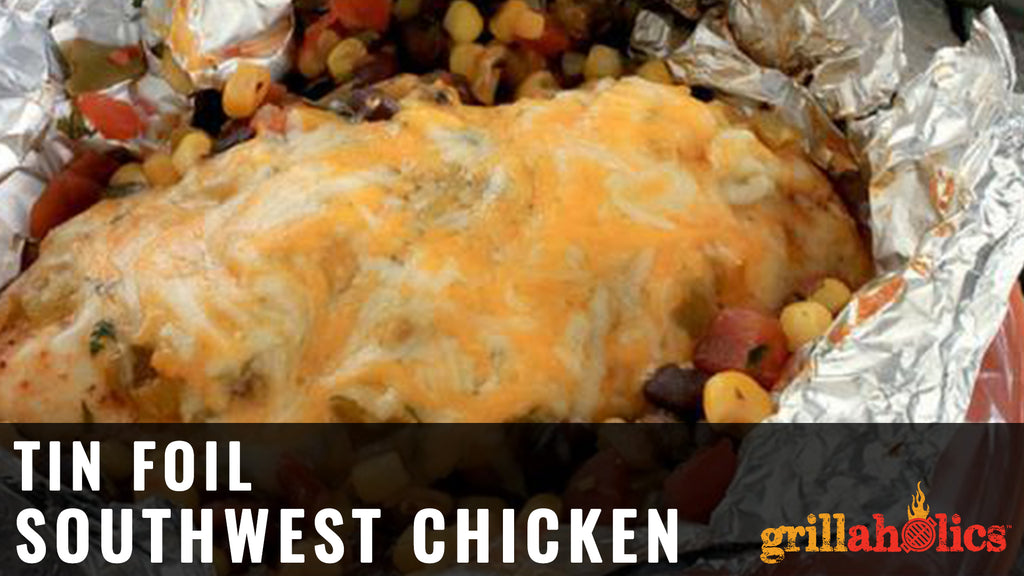 Ingredients
1 cup corn kernels, fresh or frozen or canned
1 cup salsa, fresh, hot or medium or mild, drained of excess moisture
1 14.5 oz can black beans, drained and rinsed
4 heavy-duty aluminum foil, 18″ x 12″ long sheets
4 sprigs cilantro
4 boneless, skinless chicken breasts
 salt and pepper
4 tsp taco seasoning
1 cup Mexican cheese blend, shredded
4 lime wedges
Directions
Preheat outdoor grill to medium-high heat or preheat oven to 350 degrees. In a large bowl, stir together corn, salsa and beans until evenly combined.
Place four 18″ x 12″ pieces of heavy foil on counter and spray each with cooking spray. Divide the veggie mixture evenly among the packets and place one cilantro sprig on top.
Season both sides of chicken breasts with salt and pepper and approximately 1 tsp taco seasoning per breast. Place seasoned chicken on top of veggies.
Fold long sides of foil up and over chicken and bring edges together. Roll the foil together, moving downward until 1″–2″ from top of chicken. Fold both short ends together to seal the packet, but make sure to leave enough space inside the packet for steam expansion.
Place packets directly on grill or on a baking sheet in the oven. Grill 15–20 minutes or bake 30–35 minutes in the oven, until the center is no longer pink. Cooking times may vary depending upon thickness of chicken breasts.
Remove from grill or oven and carefully open packets to allow steam to escape. Sprinkle an equal amount of cheese on top of each piece of chicken, close foil and allow it to sit 2 minutes or until cheese has melted. Serve with a lime wedge for squeezing and enjoy!
Credit: EverydayDishes.com Click the link to see more!
And check out our Instagram and Pinterest page for more inspiration!