Wood Pairing Guide For Smoking
Posted by Madeleine Bequette on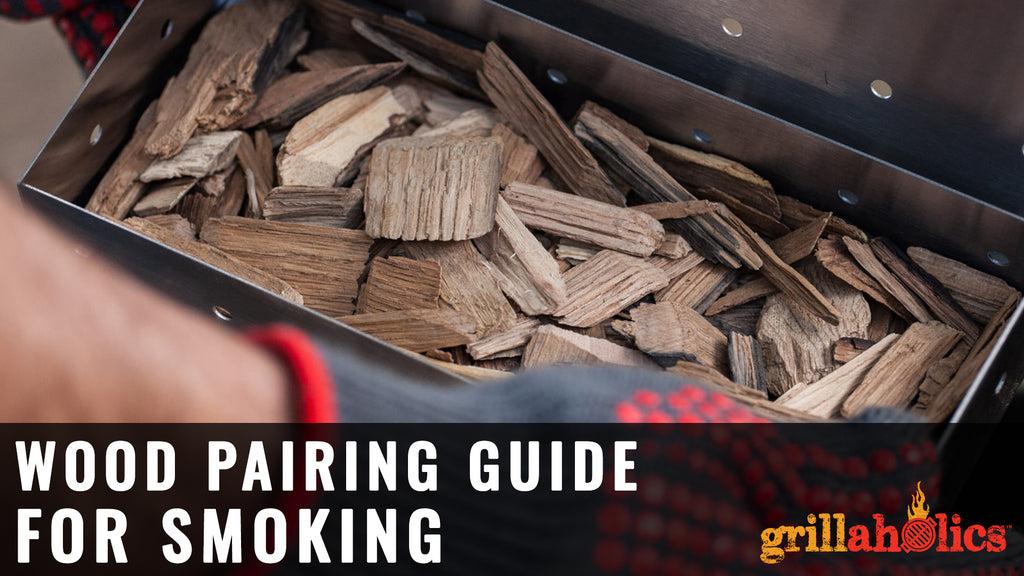 It's Saturday and you're trying to figure out what you're doing for the big BBQ today. Is everybody tired of the usually chicken and beef that is prepared at your backyard cookouts? If you're trying to switch things up with your barbecue, try smoking your meat instead. Ever wonder what wood you should be using for your bbq? From sweet to smokey, we have the ultimate wood pairing guide for you to use while you're firing up the grill!
When it comes to smoking on your grill, you need to be knowledgable about what woods are best paired with your tastebuds! It is essential to know what wood will give you the perfect flavor you are looking for! So, let's get into it...
Hickory Wood
Hickory wood is maybe the most popular wood that you can choose for smoking your meat! Hickory is great for smoking pork, ham, and beef for a sweet to strong, heavy bacon flavor. Talk about delicious, satisfying flavor!
Mesquite Wood
This type of wood is good for any of you who are a fan of the sweeter side of life! If you love earthy flavored food with a sweet tasting compliment, you will love smoking your meat with Mesquite wood. This type of wood is good for any type of game, but mainly it is a really great complement to beef, fish, turkey, chicken, and vegetables! 
Apple Wood
Okay so Apple has got to be top 5 favorite woods to use for smoking. Apple wood is a very mild, subtle fruity flavor that is slightly sweet. Apple wood is great with pork especially and also with poultry! Side note-try adding a little Mesquite wood with it for a nice blend of sweet and earthy flavors!
Cherry Wood
Cherry wood, from experience, is delicious with its fruity and mild flavor! This wood is so good for pork and poultry, and adds such a sweet twist to your BBQ! With it's cousin, Apple wood, these two types of woods are sure to change up the way you are currently doing BBQ.
Oak Wood
Oak wood is probably the second favorite in comparison to Hickory. Oak flavored meats are so popular because they still give you great smokey flavor with no crazy aftertaste! Okay is perfect for brisket, red meat, pork, and fish! If you're a true Grillaholic, you will keep some Oak handy at any moment necessary to smoke the perfect bbq.
Peach Wood 
Peach wood is perfect to use for some sweet, woody flavor to add a little bit of zest to your chicken, pork, turkey, or fish! Impress everyone at your next cookout and surprise them with this unique flavored meat!
Pecan Wood
If you're a fan of Hickory and Oak, you will LOVE smoking your bbq with Pecan Wood. Pecan wood has a mild, subtle flavor that is delicious with pork and poultry! Rumor has it, if you pair pecan wood and a citrus wood, you will immensely intensify the flavor in your ham or pork! Definitely experiment with this one! 
Cedar Wood
Cedar isn't necessarily the greatest wood to use for smoking...BUT it is great to use as a plank for grilling Salmon! If you do filet a salmon on a cedar plank make sure you grill it low and slow to get maximum flavor!
Experiment with your BBQ and see which wood is the perfect match for your tastebuds. And if you want to be a true Grillaholic, show off your new signature smoke style to  your friends and family and watch them awe at the badass that you really are. To get more inspiration for some wood smoking ideas, check out our Pinterest page and our Instagram page!